Celebrating 50th National Day of the Sultanate of Oman
VGP - The Sultanate of Oman on On November 18 marked its 50th National Day anniversary under the wise leadership of His Majesty Sultan Haitham Bin Tarik, who was chosen by the late His Majesty Sultan Qaboos Bin Said Bin Taimour, as the Sultan of Oman.
November 19, 2020 8:56 PM GMT+7
Within a short span of ten months, His Majesty Sultan Haitham was able to make many achievements. He restructured the State's Administrative Apparatus to keep pace with Oman Vision 2040 which were drawn out by all segments of society under his patronage, and the participants determined the future goals and economic, social and cultural approaches for a more verdant phase of development.
Economy… Oman Vision 2040
The Oman Economic Vision, scheduled to be implemented upon the start of the 10th Five Year Plan in January 2021, meets with serious challenges, including the slump in international oil prices and the global spread of COVID-19.
These challenges prompted the government to undertake stringent measures, including a Medium-Term Fiscal Balance Plan (2020-2024) which features many initiatives and programs aimed at establishing solid foundations for financial sustainability.
Education and Research Sector:
His Majesty Sultan Haitham accorded top priority to the sector of education. He gave directives to provide a supportive environment that enhances learning, research and innovation. The aim is to enable Omani citizens to contribute to the forthcoming stage of development.
The National Strategy for Research and Development has been modernized to keep pace with Oman Vision 2040, notably the development of a cognitive community that is capable of competing and converting knowledge into economic revenue.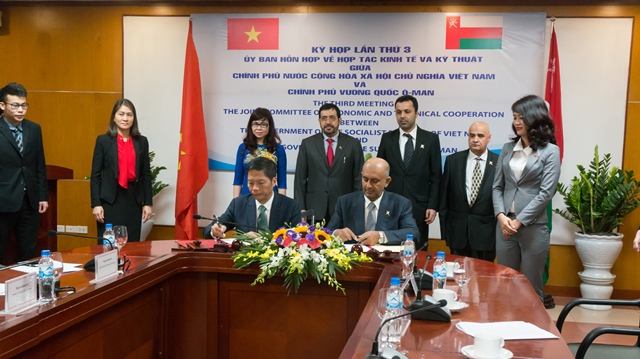 Vietnamese Minister of Industry and Trade Tran Tuan Anh and Omani Minister of Commerce and Industry sign a minute of the meeting at the end of the 3rd meeting of the Viet Nam-Oman Joint Committee on Economic and Technical Cooperation, Ha Noi, March 23, 2018.

Bilateral relations
The Oman-Viet Nam relations were established in 1992, followed by the establishment of the Oman-Viet Nam Joint venture Investment Company (VOI) in 2008.
Oman's embassy in Ha Noi opened in 2010, and during 28 years of diplomatic relations, the two countries signed seven bilateral co-operation agreements and two memoranda of understanding in the fields of aviation, trade and investment, double taxation avoidance, oil and gas, agriculture, labour and a joint council of business.
These mechanisms provide a legal framework to develop and strengthen bilateral relations now and in the future, contributing to the investments of VOI which have reached US$250 million in the fields of health, services, agriculture, energy, education, highways, logistics and water supplies, and increased the volume of bilateral trade by 122%, with a value of US$200 million dollars annually, and it is expected to be doubled in future after opening direct flights and operating direct shipping lines between the two countries.
The two countries could also expand their co-operation to many other fields such as ports, technology, agriculture and fisheries with high technology, training and investments in free economic zones and logistics, with experiences in the maritime economy, by taking advantage of the strategic locations of both countries, and in line with the sustainable development plans of Viet Nam and Oman.
Viet Nam and Oman hope that the efforts of the two countries' leaders will bear fruit in strengthening bilateral cooperation in all political, economic and cultural fields, in order to achieve the hopes and aspirations of the peoples of the two friendly countries./.
By Quang Minh