Viet Nam, Oman waive visa for diplomatic, special and official passport holders
VGP - Viet Nam and Oman signed visa waiver agreement for holders of diplomatic, special and official passports in Ha Noi on April 28.
April 28, 2022 10:24 PM GMT+7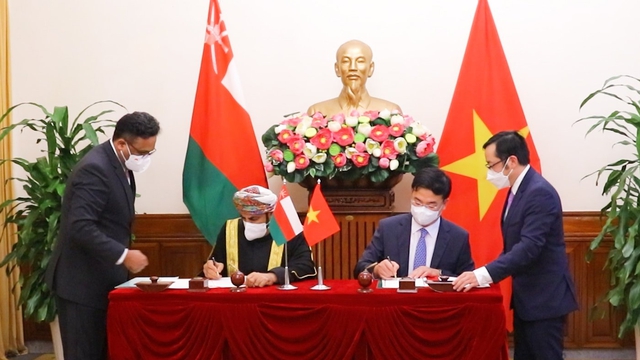 The signing ceremony took place on the approaching of the 30th anniversary of the establishment of dVietiplomatic relations between the Socialist Republic of Viet Nam and the Kingdom of Oman (June 9, 2022).
This agreement demonstrates the commitment of the two Governments to promote exchanges and facilitate the travel of citizens of the two countries in the context of friendly relations and good bilateral cooperation.

Both countries have signed a number of agreements and memorandums of understanding, the most important of which is the establishment of the Joint Committee on Economic Cooperation, the Political Consultative Group and the Business Council between the two countries; signing trade agreements, investment and cooperation in the field of oil and gas, renewable energy ...
Viet Nam and Oman established diplomatic relations on June 9, 1992, followed by the establishment of the Oman-Viet Nam Joint venture Investment Company (VOI) in 2008. (VOI) has disbursed about US$300 million in capital./.