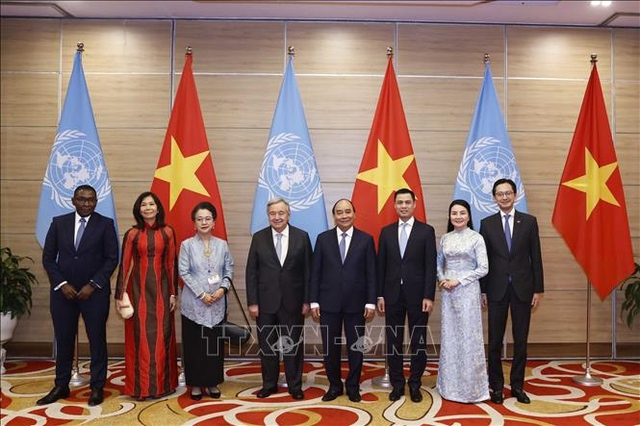 The Vietnamese State leader and UN Secretary-General António Guterres co-chaired a ceremony commemorating the 45th anniversary of Viet Nam's membership in the UN (September 20, 1977 – 2022) in Ha Noi on October 21.
Addressing the event, the President affirmed that becoming the 149th member of the UN started a new historical journey in Viet Nam's national construction and development.
Since Viet Nam launched its "Doi moi" process in 1986, the UN has provided effective support for the country to build the institution of the market economy, develop human resources, realize development goals, solve social problems, and lift millions of people out of poverty.
Especially, during the recent COVID-19 outbreak, the UN's COVAX Facility shared a large amount of vaccines for the Southeast Asian nation, he noted.
Nguyen expected that the UN will continue to play a central role in global governance, serve as a nucleus connecting international solidarity, and a focal point rallying multilateral efforts to strengthen peace, security and development cooperation.
Guterres, for his part, congratulated Viet Nam on being elected to the UN Human Rights Council for the 2023-2025 tenure.
While lauding Viet Nam's bold decision to accelerate its effort to phase out coal, jumpstart the renewables revolution, and achieve net zero by 2050, he suggested that the country need the support to speed this transition and accelerate the greening of its economy.
Guterres also expressed his wish to further strengthen the good relationship between the UN and Viet Nam in the coming time to promote peace and sustainable development, respond to climate change, ensure and promote human rights in the world./.