President affirms Viet Nam's support for multilateralism
VGP – President Nguyen Xuan Phuc reaffirmed Viet Nam' consistent pursuance of its foreign policy of independence, self-reliance, diversification and multilateralization of external relations, and active and proactive international integration.
October 21, 2022 9:56 PM GMT+7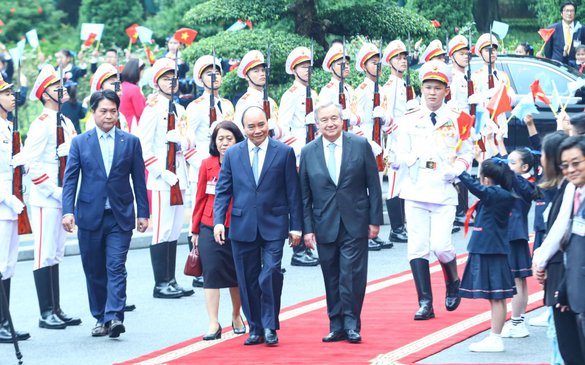 At his summit meeting with United Nations Secretary-General António Guterres on Friday, President Nguyen highlighted Viet Nam's strong commitment to advocating multilateralism and central role of the United Nations in global governance and in rallying efforts to address common challenges.

Nguyen expressed sincere thanks to the United Nations – a trusted friend of Viet Nam – for its valuable support and assistance for the country's post-war rescontruction and current cause of national development.
He also appreciated António Guterres' support for stronger relations between Viet Nam and the United Nations.
Viet Nam stands ready to make all-out contributions to the common work of the United Nations for peace, security and development across the globe, President Nguyen emphasized.
He suggested the United Nations continue helping Viet Nam to manage the COVID-19 pandemic, mobilize resources for long-term green and sustainable recovery, realize sustainable development goals, and build law-governed State.
Nguyen also asked the United Nations to assist Viet Nam in implementing its commitment to achieve net-zero emissions by 2050.
Both President Nguyen and António Guterres agreed on the need to further consolidate multilateralism in which the United Nations plays a central role while upholding international law, solidarity spirit, and cooperation amid complicated development of security-political environment in the region and the world.
The pair also agreed to further enhance cooperation between the United Nations and ASEAN, promote the role of ASEAN in addressing regional issues.
They voiced support for maintenance of peace, stability, security, safety and freedom of navigation and aviation in the East Sea, and for peaceful settlement of disputes on the basis of international law, especially the 1982 United Nations Convention on the Law of the Sea./.