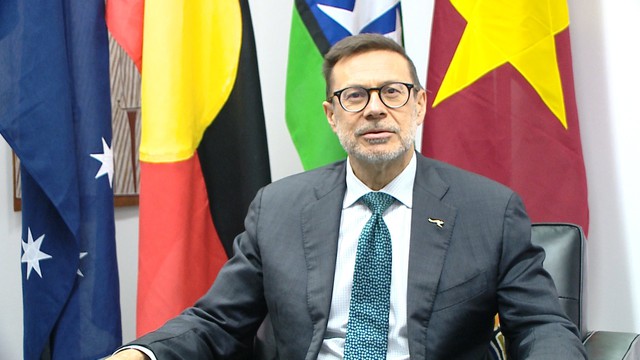 Andrew Goledzinowski said in recent years, Australia have been witnessing Viet Nam's increasingly important role in international forums, which are playing an increasingly significant part in the establishment of international laws and norms.
Viet Nam did a very good job in chairing APEC in 2017 and presiding over the ASEAN Chairmanship in 2020. The nation was elected with a world record number of votes to the position as the non-permanent member of the UN Security Council for the 2020-2021 tenure.
Andrew Goledzinowski expressed hope that if Viet Nam is elected to UN Human Rights Council for the term 2023-2025, the nation will sign the Incoming Members' Pledge, which Australia initiated in 2018.

ASEAN is at the center of Australia's strategic conception, he noted, adding that Australia advocates ASEAN, ASEAN's centrality and the Indian Ocean outlook that ASEAN adopted recently.
Regarding cooperation in peacekeeping activity, Andrew Goledzinowski said that peacekeeping operations are one of the most important things that the UN does and when individual countries get involved in peacekeeping, it is a very positive indication of their international good citizenship.
Australia was delighted to partner with Viet Nam in peacekeeping operations as early as 2014 when Viet Nam first deployed soldiers to South Sudan. Since then, the cooperation has grown notably.
Viet Nam has a very competent military force, but Viet Nam's experience is not so much in projecting their military over long distances, so Australia has been working with Viet Nam to work on logistics supply chains, on how cargo loading can take place and how soldiers can be prepared for deployment into remote areas.
Australian support has also included training in English language skills as well as exchange of equipment, including a number of ambulances and other important hardware.
Most important has been Australia's support for strategic airlifts over four rotations into South Sudan, with images of Vietnamese troops on Australian aircraft a visible symbol of this support. That is a partnership Australia wants to build on and hopes to formalize a peacekeeping partnership with Viet Nam in the near future.
Australia hopes to further elevate bilateral relationship with Viet Nam
According to Andrew Goledzinowski, over the last 50 years, there have seen strong convergence of economic and strategic interests between Viet Nam and Australia and increasingly strong people-to-people links.
There are a lot of activities happening under the strategic partnership in the areas of technology transfer, innovation, education, health, trade, investment and many other links.
"Australia hopes to further elevate the bilateral relationship beyond where it has been in the past", emphasized the Ambassador.
In terms of the potential of trade ties between the two nations, Andrew Goledzinowski said that trade has grown tremendously fast, reflecting the growth in Viet Nam's economy. Australia recently became Viet Nam's 10th largest trading partner.
Both nations have very complimentary economies: Australia provides to Viet Nam a lot of the raw materials that Viet Nam needs to grow and to export and Australian people enjoy a lot of the manufacturing products that come from Viet Nam.
However, the level of investment at the moment of Australia in Viet Nam as well as the investment of Viet Nam in Australia is not high enough yet and has potential to grow.
Australia was one of the pioneers entering the Vietnamese economy: the first big international bank was ANZ; the first big law firm was Allen's; the first international university was RMIT; and the first international phone calls by a satellite from Viet Nam to another country via Australia's Telstra satellite, he noted.
Australia is very proud of its educational links with Viet Nam-the nation is the second destination for students from Viet Nam and targets becoming number one.
"Australia is really very closely integrated in the Vietnamese economy and hopes to play a big role in helping Viet Nam to reach its ambition of becoming a developed economy by 2045", asserted Andrew Goledzinowski.
Besides cooperation at multilateralism and remarks on economic cooperation, the Ambassador proposed that health cooperation will be a future part of the bilateral relationship moving forward.
Viet Nam has been very successful in dealing with COVID-19, he commended, adding that it has been due to a combination of the good decisions by the government and also the cooperation of the people. Australia also was quite successful in dealing with COVID.
Australia has been very happy to be able to work with Viet Nam to help Viet Nam procure just over, so far, 25 million doses of vaccines from Australia, he said, expressing his hope that more will be coming.
Australia also worked with Viet Nam to strengthen the cold chain storage systems, and to provide training and communications to the public.
Referring to two big challenges that he will address during his tenure in Viet Nam, Andrew Goledzinowski said the first one is COVID recovery, and a part of that is diversification of supply chains in order to make economies more resilient.
A ministerial meeting between OECD and ASEAN will take place in Ha Noi next month, which will be co-chaired by Viet Nam and Australia. And one of the points of discussion there will be about how to create more resilient supply chains for the future to help both countries to get through any future economic shocks.
The other big challenge for the whole world, not just Viet Nam and Australia, is the transition to a low carbon clean energy economy.
That's going to be difficult, especially for countries like Viet Nam and Australia which have a tradition of being dependent on coal fired power. Both governments have committed themselves to net-zero emissions by 2050 and it will be important that both sides work together to achieve that challenge.