Australia supports Viet Nam's science and technology development
VGP - Promoting Innovation and knowledge is one of the three pillars of the Viet Nam-Australia strategic partnership, noted Australian Ambassador to Viet Nam Andrew Goledzinowski.
September 28, 2022 12:34 AM GMT+7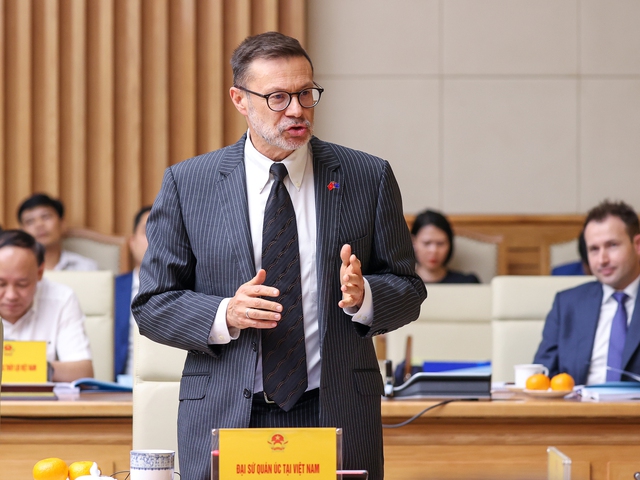 The Australian diplomat made the statement while delivering remarks at Viet Nam's National Conference on the development of a synchronized, efficient, advanced and internally integrated science and technology market in Viet Nam, held last week.
Last year, at COP 26, Prime Minister Pham Minh Chinh met with former Australian Prime Minister Scott Morrison, during which both sides entered into a joint commitment to deepen cooperation around climate change, clean energy transition and nature-based solutions, noted Andrew Goledzinowski.
Australia is now delivering on these commitments, including through the Aus4Innovation program, which brings together the Ministry of Science and Australia's National Science Agency (CSIRO), with CSIRO being based in the Australian Embassy in Ha Noi.
Ambassador Goledzinowski added that one of the practical outcomes of this collaboration has been joint production of a Guide on how to commercialize ideas.
This Guide has now been produced and is being road tested by some of the experts and researchers who attended the Conference, including the Viet Nam Academy of Science and Technology, the Academy of Agricultural Science and the Ministry of Science and Technology.
Recent global studies have identified four successful strategies for supporting science commercialization initiatives. The first is national programs, events and resources that allow businesses and researchers to find each other.
The others include developing science parks and other mechanisms to deepen collaboration, support intermediaries or tech transfer units and addressing the capacity of industry to absorb new technology or knowledge.
Remarkably, the Australian Ambassador also emphasized the significance of launching good polices in promoting the synchronized, efficient, advanced and internally integrated science and technology market in Viet Nam.