Prime Minister receives WB Managing Director of Operations
VGP - WB Managing Director of Operations Axel van Trotsenburg highly valued the measures taken by the Vietnamese Government in managing COVID-19, stabilizing macro-economy, and steering the economy back to its right track.
July 19, 2022 8:09 AM GMT+7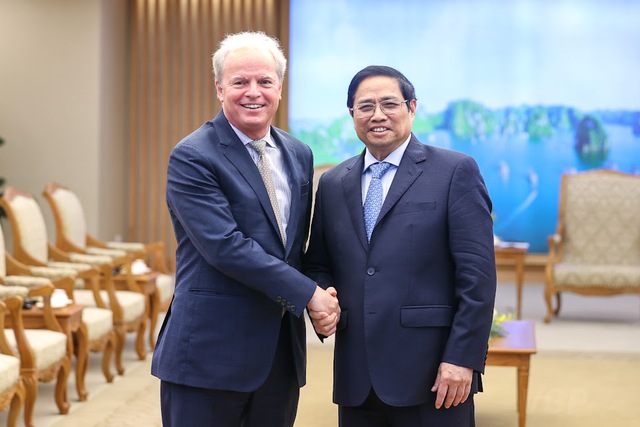 Prime Minister Pham Minh Chinh hosted a reception for the WB Managing Director of Operations who is paying an official visit to Viet Nam from July 18-19 to discuss with Vietnamese leaders the evolution of World Bank – Viet Nam partnership and areas of World Bank support over the next three years.
Pham took the occasion to express his gratitude to the international financial institution for its support for Viet Nam in terms of resources, macro policy recommendations, fulfillment of UN-initiated millennium development goals, and e-Government building.
According to the Government chief, the WB supported Viet Nam to delay quick payment of IDA loans (worth about US$400 million) within one year from July 2020 to July 2021 in a bid to help the Vietnamese Government have more resources for the fight against COVID-19 and economic recovery.
During a recent conference to announce the Master Plan and investment promotion program for the Mekong Delta in the 2021-2030 period, six international financial institutions committed to financing US$2.2 billion in official development assistance (ODA) and preferential loans in which the WB planned to grant US$450 million.
Viet Nam has committed to contributing nearly US$16 million during 2021-2023 in the bank's largest capital increase in history as it is mobilizing US$13 billion to supplement its operation capital, thus demonstrating the country's great responsibility, obligation and effort in the context of a lot of difficulties and challenges.
He appreciated the WB's assistance for Viet Nam to complete the building of Viet Nam Report 2035, and asked the bank to help build Viet Nam Report 2045 and continue supporting the country in developing strategic infrastructure, promoting sustainable development and green growth, reducing gas emissions and responding to climate change.
Pham suggested the international lender continue assisting Viet Nam in strategic infrastructure development, sustainable growth, green growth, prevention of climate change and green house gas emission.

Updating strategic partnership framework
In reply, Axel hailed Viet Nam's experience in socio-economic development, disease prevention, and settlement of many global issues including food security.
The WB will continue to accompany the Vietnamese Government in the upcoming development journey not only in the financial sector, but also in solving strategic issues such as improving the capacity of the health system, responding to diseases and adapting to climate change, said the Managing Director.
The World Bank is also ready to send a team of global experts and the World Bank Viet Nam Office to support the Government in developing the Viet Nam Report 2045, in a bid to help the Southeast Asian country to become a developed and high-income country by 2045, according to Axel.
Axel agreed with Pham's view of upholding international cooperation and multilateralism, in the spirit of sincerity, trust and efficiency, along with solutions tailored to each country's characteristics to solve current emerging problems such as epidemics, climate change and non-traditional security issues./.