Prime Minister receives Belgian diplomat, CEO of John Cockerill Group
VGP - Prime Minister Pham Minh Chinh hosted a reception for Belgian Ambassador to Viet Nam Karl Van Den Bossche and Francois Michel, CEO of John Cockerill Group - a mechanical engineering firm of Belgium, in Ha Noi on May 17.
May 18, 2023 9:18 AM GMT+7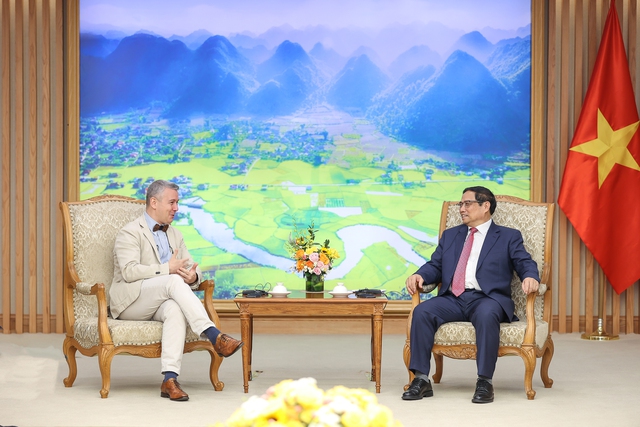 Prime Minister Pham said that Viet Nam is consistent with its foreign policy of independence, self-reliance, peace, friendship, cooperation and development, diversification and multi-lateralization of relations, and extensive, intensive, practical and effective international integration.
Viet Nam has maintained macroeconomic stability, effectively controlled inflation, promoted growth and ensured great balances. The Southeast Asian nation is still an attractive investment destination.
So far, the country signed 16 free trade agreements (FTAs) with more than 60 economies around the world and is negotiating others.
Viet Nam has listened to comments of investors and kept a close watch on both domestic and external upheavals for appropriate responses, he added.
Pham said Viet Nam prioritizes the development of wind and solar power, and hydrogen, towards achieving the goal of net zero emissions by 2050 as committed at the 26th UN Climate Change Conference (COP 26) in Glasgow in late 2021.
The National Power Development Plan VIII which has been introduced recently takes into account the possibility of electricity export in the trend of diversifying markets, products and supply chains.
He proposed John Cockerill Group consider and soon invest in Viet Nam in renewable energy, especially producing green hydrogen and biomass fuel; and strengthen cooperation with and support for Viet Nam in perfecting policies, researching and applying science and technology, improving management capacity, and training human resources in this field.
He also urged the Belgian Ambassador and the John Cockerill's CEO to promote cooperation with Viet Nam in manufacturing microchips, and promoting innovation in the Southeast Asian nation, and call on more Belgian firms to invest in Viet Nam in emerging fields such as digital transformation, innovation, green transformation, and circular economy.
He hoped John Cockerill will soon set up an office and a research and training facility on hydrogen and renewable energy at the National Innovation Centre (NIC) in Hoa Lac hi-tech park in Ha Noi.
In reply, Belgian Ambassador Karl Van Den Bossche affirmed that his country wishes to strengthen cooperation with Viet Nam in various fields, especially when the two countries are celebrating the 50th anniversary of the diplomatic relations.
Michel shared the vision, investment cooperation orientation, operations and future plans of John Cockerill Group in Viet Nam, especially in terms of energy, hydrogen and manufacturing of hydrogen electrolyzes.
Michel said his working trip to Viet Nam aims to promote the implementation of signed agreements and seek opportunities to expand investment in other fields in Viet Nam./.