President welcomes Honorary President of UNICEF Belgium
VGP - President Vo Van Thuong on May 9 hosted a reception for Queen Mathilde of Belgium, who is on a visit to Viet Nam in her capacity as Honorary President of UNICEF Belgium.
May 11, 2023 4:41 PM GMT+7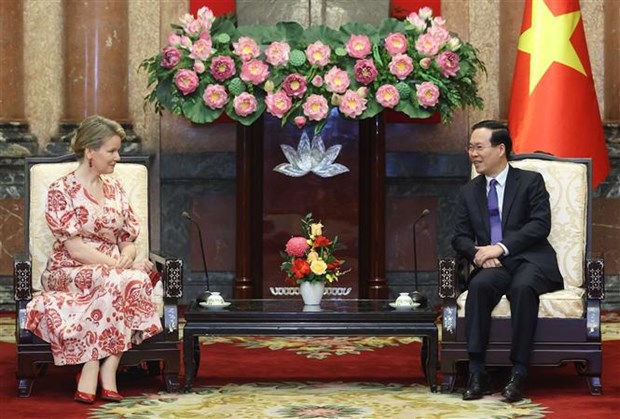 President Vo Van Thuong welcomed the Queen's visit on the 50th anniversary of bilateral diplomatic ties and the fifth anniversary of the strategic agricultural partnership between Viet Nam and Belgium.
The leader conveyed his invitation to King Philippe and the Queen to visit Viet Nam soon to discuss measures to deepen bilateral cooperation in various areas.
For her part, Queen Mathilde of Belgium shared her excitement about her upcoming trip to northern Lao Cai province to witness the outstanding results of childcare facilities there and Viet Nam's achievements in sustainable development.
She also hopes to learn about Viet Nam's difficulties in child health care and protection, especially issues related to education, nutrition, and mental health.
The Vietnamese President said the Vietnamese Party, State, and people had always paid attention to child care, education and protection, with the view of dedicating the best things to children.
Along with that, Viet Nam has been fine-tuning its legal system and launching policies related to children such as poverty reduction, new rural development, education, health care and social care. Childcare work has been carried out synchronously from the central to local levels.
On this occasion, the leader thanked Belgium, UNICEF Belgium and Queen Mathilde for their continuous support and cooperation with Viet Nam in child protection and care, donating significant resources to help Viet Nam improve the effectiveness of the effort.
He believed that while visiting projects funded by UNICEF Belgium in Vietnamese localities, Queen Mathilde of Belgium would have the opportunity to better understand Viet Nam's efforts, achievements and difficulties in the field.
Besides, he wished that UNICEF Belgium would continue helping Viet Nam fine-tune policies and laws related to children, and allocate resources to support Viet Nam, especially in education and health care, so that Viet Nam could better care for and educate children in the future./.