Prime Minister inspects construction site of Viet Nam's biggest airport
VGP – Prime Minister Pham Minh Chinh on Sunday inspected the construction site of the Long Thanh International Airport – Viet Nam's biggest airport when complete.
January 29, 2023 5:22 PM GMT+7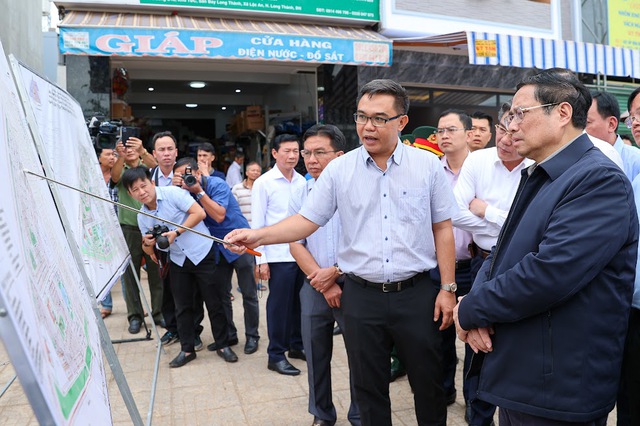 He was accompanied by Deputy Prime Minister Tran Hong Ha, Minister of Planning and Investment Nguyen Chi Dung, Minister of Transport Nguyen Van Thang, and Minister of Construction Nguyen Thanh Nghi.

Construction of the US$ 16 billion airport is divided into three stages with the first one involving the building of a runway for takeoff and landing, taxiways, terminals and several ancillary items to allow the airport to serve 25 million passengers and 1.2 million tons of cargo per year.
The airport's capacity will be increased to 50 million passengers per year in the second phase and 100 million passengers per year in the third phase that last till 2050.
Work on the airport began in January last year but the progress remains slow due to site clearance and construction progress in resettlement areas.
Many families living in the areas designated for the airport project do not have papers proving legal ownership of their houses and land, making it difficult to complete compensation and relocation procedures.
Prime Minister Pham urged the Southern province of Dong Nai to complete the handover of cleared ground for the first-stage construction of the airport to the contractors no later than this year's first quarter.
He ordered the establishment of a working group led by Deputy Prime Minister Tran Hong Ha to oversee and speed up the project.
Located 40km east of Ho Chi Minh City – Viet Nam's biggest economic locomotive, the airport is expected to relieve overloading at Tan Son Nhat international airport in the southern metropolis, now the country's largest airport.