Prime Minister chairs teleconference with Viet Nam's trade representative offices abroad
VGP - Prime Minister Pham Minh Chinh highlighted the need to diversify export markets and expand export horizon to Eastern Europe, the Middle East, South Latin America, South Asia and Africa beyond current traditional markets like the U.S. the European Union, Japan, the Republic of Korea, and ASEAN.
August 20, 2022 9:24 AM GMT+7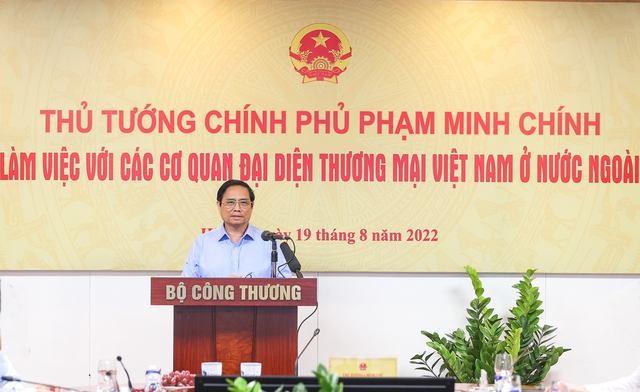 The Government leader made that above statement while chairing a teleconference with 61 Viet Nam's trade representative offices abroad in charge of 176 foreign markets on August 19.
The event saw the participation of Standing Deputy Prime Minister Pham Binh Minh, Minister of Industry and Trade Nguyen Hong Dien, Minister of Foreign Affairs Bui Thanh Son, Minister of Agriculture and Rural Development Le Minh Hoan and Governor of the State Bank of Viet Nam Nguyen Thi Hong.
Addressing the event, Pham noted that, in the upcoming months of 2022, Viet Nam is set to face a number of challenges including mounting inflationary pressure, shrinking import demand of foreign markets, contractionary monetary policy and "zero COVID" policy of traditional export markets.
Therefore, Viet Nam's trade representative offices overseas were tasked to update and evaluate policies of the host nations to put forward strategic measures and suitable policies with a view to ensuring and protecting the interests and legitimate rights of Vietnamese enterprises, particularly in handling trade remedy investigations.
Trade representative offices were required to enhance the partnership between domestic and foreign firms and attract more foreign investment capital in fields of energy, especially renewable energy, mechanics, manufacturing, processing, electrics, auxiliary industry, chemicals, pharmaceuticals as well as support Viet Nam's enterprises to invest overseas.
The Prime Minister emphasized the significance of strengthening cooperation to develop technical workforce via sending workers and apprentices abroad, thus making contribution to promoting high-quality human resources in the country.
In 2021, Viet Nam's total exports and imports hit US$670 billion, making the nation one of the top 20 economies in terms of international trade, reported the Ministry of Industry and Trade.
In the first seven months of this year, trade value with the rest of the world grew by 15.3 percent to reach over US$433 billion. The figure is forecasted to increase to US$800 billion by the end of this year.