Prime Minister calls on U.S. to open market wider for farm produce
VGP - Prime Minister Pham Minh Chinh suggested the U.S. open the market wider for Viet Nam's farm produce at his reception for U.S. Secretary of Agriculture Thomas Vilsack in Ha Noi on April 19.
April 20, 2023 11:39 AM GMT+7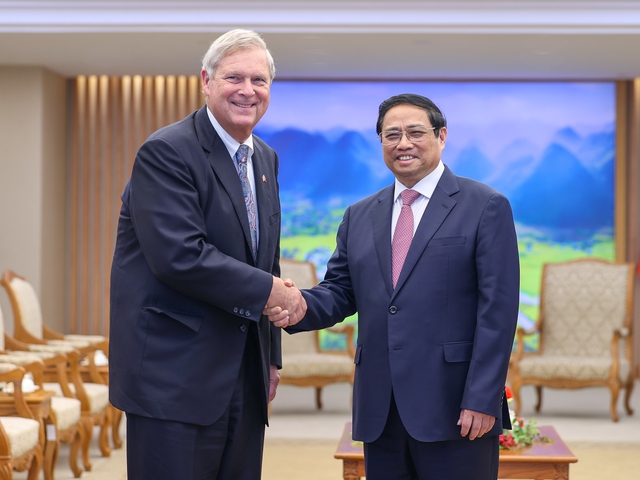 Viet Nam considers the U.S. as one of its top crucial partners, expecting to foster the comprehensive partnership with the U.S., the PM affirmed, voicing his support for strengthening the bilateral cooperation across sectors, including agriculture.
In 2022, the bilateral trade value in agriculture hit US$15.36 billion, the PM noted, proposing the U.S. enhance collaboration and assist Viet Nam in developing a fast, sustainable, modern and integrated agricultural development, building civilized ecosystem and rural areas and improving the added values of farm produce.
Pham called on the U.S. to complete procedures to pave the way for Viet Nam's fruits such as coconut and passion fruits to be sold in the country and support the establishment of irradiation facilities in northern Viet Nam to facilitate the export lychee, mango, pomelo, and dragon fruit to the market.
He recommended the U.S. assist Viet Nam in planning and developing raw material areas and meeting U.S. standards for food safety and hygiene as well as encourage more U.S. firms to invest in agriculture in Viet Nam.
Viet Nam stands ready to open the market and increase the imports of agricultural products from the U.S., shared the PM.
The Vietnamese leader asked the U.S. Department of Agriculture to bolster collaboration and support Viet Nam in green transition, climate change adaption, technological transfer, digital transformation in agriculture, disease control as well as research and production of vaccines, fertilizers and animal feed and increase scholarships and workforce training in agriculture.
For his part, Thomas Vilsack reiterated that the U.S. hopes to promote the bilateral relations with Viet Nam, particularly in terms of trade, suggesting both sides continue exchange experience in agricultural development, particularly smart agriculture.
He pledged to work with the two countries' relevant agencies to accelerate cooperation in areas suggested by the Vietnamese PM, including setting up irradiation facilities in northern Viet Nam.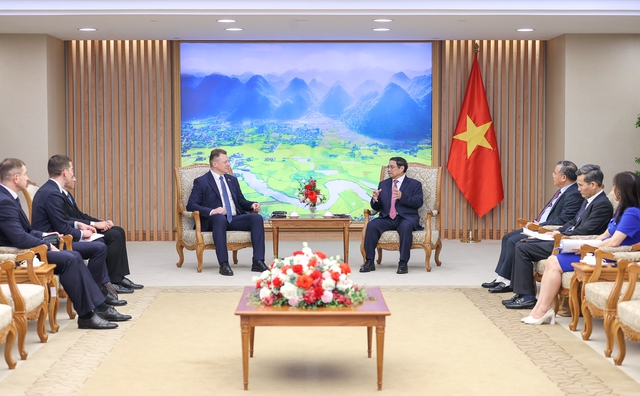 The same day, Pham received Belarusian Minister of Emergencies Vadim Sinyavsky, during which the former affirmed that Viet Nam always treasures developing its traditional friendship and multifaceted cooperation with Belarus and welcomes positive progress in the bilateral collaboration, especially in politics, diplomacy, economy and trade.
He asked the two sides to further step up cooperation in trade-economy, encourage enterprises to expand business and investment in each other's country, and promote cooperative ties in national defense and security, particularly in fire prevention and fighting, and response to emergencies.
For his side, Vadim Sinyavsky said the Belarusian Government will make efforts to promote the friendship and multifaceted cooperation between the two nations as well as the collaboration between the Belarusian Ministry of Emergencies and the Vietnamese Ministry of Public Security./.