Viet Nam, U.S. have built up sustainable, dynamic and effective relations
VGP – Viet Nam and the U.S. have built up a sustainable, dynamic and effective relationship since the two countries normalized ties in 1995, said U.S. Secretary of State Antony Blinken.
April 16, 2023 4:08 PM GMT+7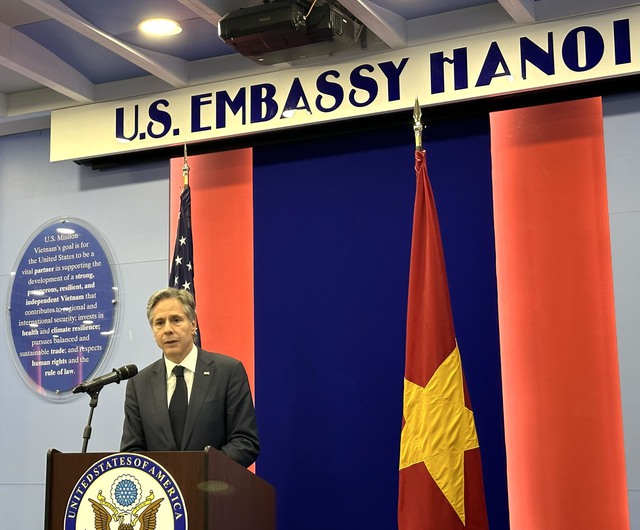 In a press briefing on Saturday, Blinken expressed his belief that the Viet Nam-U.S. relations would continue thriving in decades ahead.

Blinken said both countries have coordinated closely across almost all fields and built strong cooperation in trade, investment, economy and climate change among others.
He noted with pleasure that the two-way trade has grown amazingly, from virtually zero to US$450 million in 1995, US$100 billion for the first time in 2021 and US$123.7 billion in 2022.
Blinken is on a three-day visit to Viet Nam on the occasion of the 10th founding anniversary of the comprehensive partnership between the two countries.
During his visit, Blinken paid courtesy call on Party General Secretary Nguyen Phu Trong, Prime Minister Pham Minh Chinh and met with Foreign Minister Bui Thanh Son and Head of the Communist Party of Viet Nam Central Committee's Commission for External Affairs Le Hoai Trung.
He also attended the groundbreaking ceremony of the new U.S. Embassy campus in Ha Noi./.