Prime Minister asks for 180-day action plan to tackle IUU
VGP - Prime Minister Pham Minh Chinh has tasked subbordinate levels to promptly craft a 180-day action plan to implement the EC's recommendations and combat illegal, unreported and undocumented (IUU) fishing.
December 02, 2022 3:10 PM GMT+7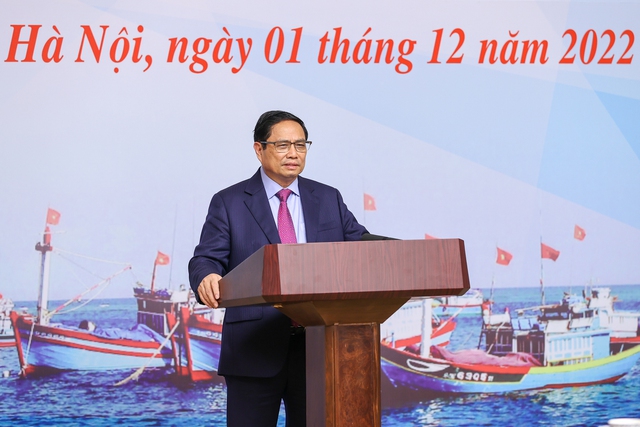 The Government chief made the request while chairing a teleconference with authorities of 28 coastal provinces and cities on December 1.
"Combating IUU needs real actions for the sake of the nation, the interests of the people, helping translate the country's international commitments to make Viet Nam a responsible member in protecting the marine environment and marine ecosystem," the Prime Minister said.

Possitive progresses
The Ministry of Agriculture and Rural Development (MARD) reported that Viet Nam has made positive progress in dealing with IUU fishing after the European Commission issued a "yellow card" warning against Vietnamese seadfood exports five years ago.
The EC highly valued Viet Nam's strong political resolve, especially the drastic directions delivered by the Government and the Prime Minister.
However, problems and shortcomings remain as pointed out by an EC delegation during their third round of inspection recently.
The "yellow card" imposed by the EC has hindered the development of the domestic fishery sector as well as the country's seafood processing and export. Therefore, the entire industry is working hard towards the removal of the warning.
The Ministry of Agriculture and Rural Development (MARD) and the aquatic sector have been striving to implement the 2017 Law on Fisheries and combat IUU fishing.
Since the imposition of the "yellow card" warning in 2017, all of the offshore fishing boats measuring at least 15 metres in length have been equipped with monitoring devices.
Many boats that violated regulations have been strictly punished with their operation licences revoked, either temporarily or permanently.
Viet Nam's seafood export reached a turnover of US$10 billion for the first time in November and is expected to climb to $11 billion by the end of the year. Seafood export has fully recovered after the COVID-19 pandemic.
Last year, Viet Nam earned over US$1.4 billion from fishery exports to the EU, with US$ 420 million from seafood and US$980 million from aquaculture.