Deputy PM orders establishing interdisciplinary teams to fight IUU fishing
VGP - Deputy Prime Minister Le Van Thanh asked for establishing interdisciplinary teams at both central and local levels to inspect, supervise, detect and strictly handle illegal, unreported, and unregulated (IUU) fishing violations.
September 20, 2022 4:38 PM GMT+7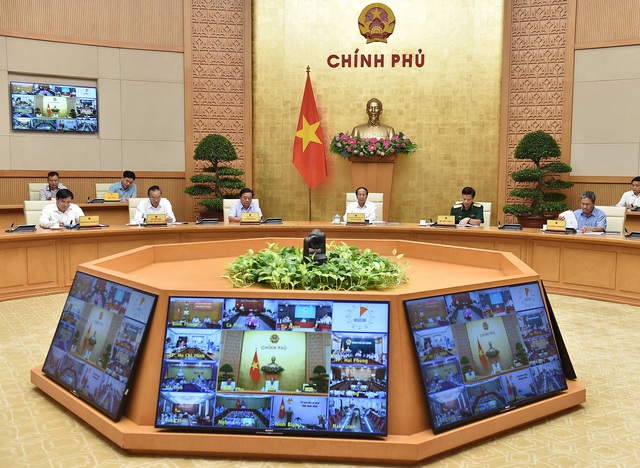 The Deputy PM made that above request while chairing a teleconference between the National Steering Committee on IUU Fishing Prevention and Control and 28 coastal localities on September 20.
General Director of the Directorate of Fisheries Tran Dinh Luan said that the nation is home to 91,716 fishing vessels, 95.27 percent of which have been installed with vessel monitoring system (VMS).
Since the fourth quarter of 2021, forces responsible for law enforcement at sea have inspected and supervised nearly 80,000 fishing vessels.
Addressing the event, Le stressed the significance of the European Union (EU)'s removal of the "yellow card" on Vietnamese seafood exports to the livelihood of fishermen, the prestige of Viet Nam's aquatic sector and the nation's brand name in the world.
However, the Deputy PM noted that the issuance of fishing license for vessels has not met the requirements, only reaching 96.7 percent for fishing vessels with an overall length of 15 meters or more and 46.6 percent for vessels under 15 meters long.
He required the Viet Nam Coast Guard, border guard, fishery control force and local police to step up patrols, inspection and handling of violations at sea and at fishing ports.
Le highlighted the need to promote communications among fishermen to comprehend the risks and consequences of IUU fishing.
According to the recently-ratified IUU fishing prevention and control plan by 2025, Viet Nam targets to prevent, reduce and eliminate IUU fishing and remove the European Commission's "yellow card" on Vietnamese seafood exports.
Before departing, all fishing vessels with the maximum length of 15 meters or more must install cruise monitoring equipment while all of aquatic products must be inspected and supervised throughout the process of loading and unloading at the ports.
Meanwhile, all of the fishery products originating from foreign fishing vessels arriving at Vietnamese ports will be inspected and supervised in line with the regulations of the Agreement on Port State Measures (PSMA).