President Vo Van Thuong hosts ASEAN Ambassadors
VGP - President Vo Van Thuong hosted a reception for ASEAN Ambassadors who came to congratulate him on being elected as the Head of State in Ha Noi, on April 17.
April 18, 2023 7:36 AM GMT+7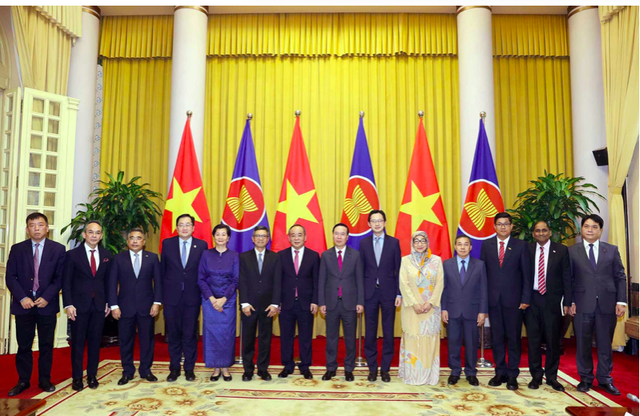 On behalf of the ASEAN diplomats, Indonesian Ambassador Denny Abdi conveyed congratulations and greetings from leaders of Indonesia and ASEAN member states to President Vo Van Thuong.
The Indonesian Ambassador affirmed that over the past 28 years, Viet Nam has played an important role in strengthening the solidarity and central role of ASEAN, as well as in building the ASEAN Community Vision beyond 2025.
The diplomat pledged to support and contribute actively and effectively to further enhancing the relationship between Viet Nam and ASEAN countries, expressing his belief that under the sound leadership of the President, their friendship and cooperation would increasingly grow.
President Vo Van Thuong hailed the theme of ASEAN this year "ASEAN Matters: Epicentrum of Growth", which reflects the role of the bloc in the region and the shared aspirations of ASEAN for development in peace, prosperity and harmony.
Also, the leader affirmed that Viet Nam would accompany the ASEAN 2023 Chair, and all member countries in achieving these goals, stating that ASEAN holds an extremely important position, and is an integral part of Viet Nam's foreign policy.
Unity, flexibility, harmony and inclusiveness are the "golden keys" to opening the door to a new regional space with ASEAN at the center, toward realizing the ASEAN Community Vision 2025 and beyond, with the community spirit permeating among people of all strata.
Viet Nam and Southeast Asian nations have been working closely together in all important fields such as national defence-security, economy, trade, investment, education-training, and people-to-people exchange.
Notably, ASEAN countries have expanded cooperation into new areas in the Industry 4.0 era, such as innovation, digital transformation, digital connectivity, circular economy, green economy, and clean energy, among others.
The Vietnamese President wished that Ambassadors would serve as important bridges, contributing more to promoting friendship and cooperation between Viet Nam and ASEAN member states.
On the occasion of the traditional New Year of Laos, Cambodia, Myanmar, Thailand (Songkran) and Ramadan in Muslim countries, he extended his warmest wishes to the leaders and people of these countries./.