President: Viet Nam vows to continue contributions to Global South
VGP - Viet Nam advocates and continues to make contribution to the Global South for a world of fairness, openness, prosperity and happiness.
January 13, 2023 4:07 PM GMT+7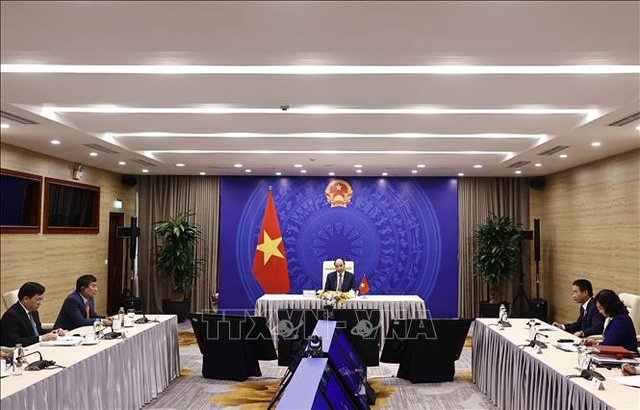 President Nguyen Xuan Phuc made the above statement at the opening ceremony of the Voice of Global South Summit held virtually on January 12.
Nguyen emphasized the need to join hands in consolidating foundations for global peace and prosperous development, focusing on promoting solidarity and international cooperation and maintaining peaceful and sustainable environment for development.
It is vital to foster free trade and international investment as a driving force for sustainable economic growth and put people at the center with the aim of leaving no one behind, he stressed.
The President called on nations to create new growth engines on the basis of creatively taking advantage of the Industrial Revolution 4.0 and reform the global governance system towards increasing the position and voice of developing countries.
The Vietnamese leader highlighted the significance of raising a common voice and making substantive contribution to accelerating multilateralism, reforming the United Nations in a more democratic and effective manner, strengthening the multilateral trading system with the World Trade Organization (WTO) as the central role and minimizing trade barriers.
He suggested developed nations increase preferential financial assistance for countries in the South, waive and reschedule debts for poor nations and provide more support in terms of climate change adaption, green transition, sustainable development and establishing a post-2025 financial development roadmap.
Technology, digital transformation and innovation need to hold a central role in the development strategy of all countries and play a role as the impetus of green growth, labor productivity and competitiveness, Nguyen noted.
The event, chaired by Indian Prime Minister Narendra Modi, attracted the participation of the Presidents of Mozambique, Senegal, Guyana and Uzbekistan and the PMs of Bangladesh, Cambodia, Mongolia, Papua New Guinea and Thailand.
The summit, among first activities held within India's G-20 Presidency, is the initiative of the Indian PM with a view to connecting development nation's viewpoints and stance with the G20's agenda, thus enhancing global linkages and building a common voice in handling urgent issues and realizing sustainable development goals.