President calls for open, transparent, non-discriminatory trade, investment at APEC Economic Leaders' Meeting
VGP - President Nguyen Xuan Phuc called for ensuring open, transparent and non-discriminatory trade and investment environment via strict implementation of free trade agreements and investment protection agreements.
November 19, 2022 7:52 PM GMT+7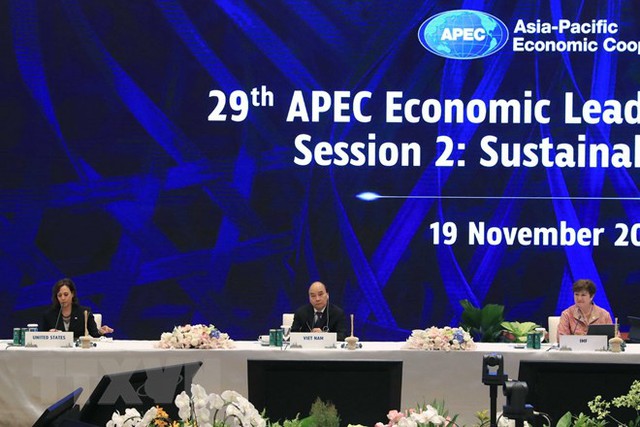 The Vietnamese State leader attended and delivered his remarks at the second session of the 29th Asia-Pacific Economic Cooperation (APEC) Economic Leaders' Meeting held in Bangkok, Thailand on Saturday.
Nguyen underscored that trade and investment benefits must be harmonious with environmental protection, green transition, and promotion of science-technology innovation.
It is vital to remove inappropriate technical barriers, support economies to reform and simplify administrative procedures, guarantee the continuity, reliability, sustainability and creativity of the regional supply chains and promote regional economic integration initiatives, towards the formation of the Free Trade Area of the Asia-Pacific, emphasized Nguyen.

He voiced support for connecting trade and investment activities with the Sustainable Development Goals 2030 (SDGs 2030) while urging to encourage the import of clean technology products and agricultural and aquatic products meeting sustainable standards and support enterprises to gain certification of international standards for farming.
All nations should promote the realization of clean energy projects, sustainable infrastructure adapting to climate change, smart agriculture and mobilize resources for digital transformation, underlined the Vietnamese leader.
He emphasized the significance of human resource training, particularly high-quality laborers to meet demands for green transition and digital transformation.
During the meeting, leaders of the APEC member economies issued the 2022 Leaders' Declaration and the Bangkok Goals on the Bio-Circular-Green Economy.
All the leaders consented to organize APEC 2023 in the U.S.