President calls on APEC to boost regional investment, businesses activities
VGP - Viet Nam expects that the APEC business community will uphold the spirit of cooperation, overcome difficulties and challenges and continue speeding up investment and business activities in the region.
November 17, 2022 9:53 PM GMT+7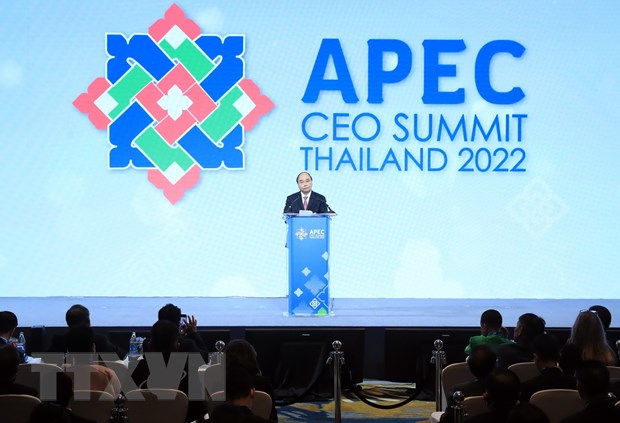 President Nguyen Xuan Phuc made the above statement while delivering his remarks at the APEC CEO Summit which is taking place in Bangkok, Thailand, from November 16-18.
Speakers at the event include President Nguyen Xuan Phuc, Chinese Party General Secretary and President Xi Jinping, French President Emmanuel Macron, Indonesian President Joko Widodo and U.S. Vice President Kamala Harris.
Nguyen stressed the necessity of ensuring a fair, transparent and effective international trade system, accelerating digital transformation, establishing new, self-reliant and sustainable supply chain with diverse sources of supply and effective and easily traceable monitoring mechanisms.
Due to impacts of COVID-19 and climate change, such areas as health, biotechnology, clean energy and carbon emission reduction will attract huge foreign direct investment (FDI) in the time ahead, said Nguyen.
President Nguyen said the Vietnamese economy is projected to expand 7.2 percent in 2022 and 6.7 percent by 2023. The nation has signed and realized nearly 60 investment promotion and protection agreements and implemented 15 free trade agreements.
The Southeast Asian nation gives priority to attracting high-tech FDI projects which help promote innovation, research and development; facilitate Vietnamese enterprises' participation in the global and regional value chains; enhance the development of the digital economy, green economy and circular economy, underscored the President./.