President attends APEC leaders' dialogue with guests
VGP - Climate change is an urgent global issue that requires the determination, political responsibility, and solidarity of all economies, said Vietnamese President Vo Van Thuong.
November 17, 2023 9:09 PM GMT+7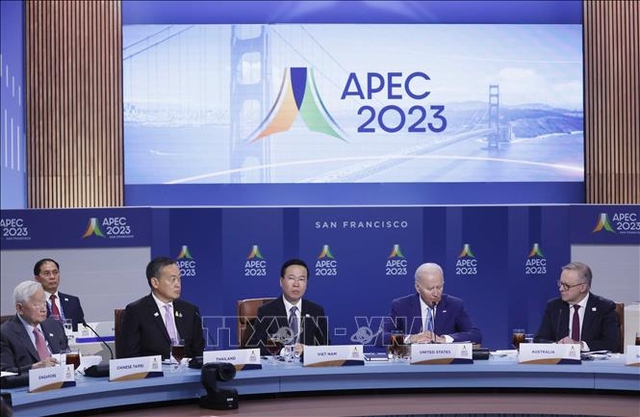 President Vo made the above statement while addressing APEC leaders' dialogue with guests in San Francisco, the U.S. on November 16 (local time).
President Vo said that Viet Nam considers climate change response as a priority of its national development policy, along with the country's strong commitments to net zero emissions by 2050, methane emission reduction, forest protection, and energy transition.
Viet Nam is one of the first three developing countries to engage in the Just Energy Transition Partnership (JETP) with the International Partners Group, and it is taking comprehensive measures from perfecting institutions to implementing them in reality, he added.
He took the occasion to call upon APEC economies and partners to step up cooperation in renewable energy and the greening of industries, ecological agriculture development and resource recovery, and social security and just transition.
"It is the right time now for all economies to materialize the historic commitments they have made to protect the earth and the future of following generations," he stressed.
Prior to the dialogue, President Vo engaged in exchanges with Party General Secretary and President of China Xi Jinping, President of the U.S. Joe Biden, President of the Republic of Korea Yoon Suk Yeol, and Prime Minister of Japan Kishida Fumio on continuing to strengthen Viet Nam's relations with the partners and discuss issues of shared concern.
Later the same day, he attended the high-level meeting on the Indo-Pacific Economic Framework (IPEF), and the opening session of a dialogue between APEC leaders and members of the APEC Business Advisory Council (ABAC)./.