Portugal treasures ties with Viet Nam
VGP - Standing Vice Chairman of the Vietnamese National Assembly Tran Thanh Man met President of the Assembly of Portugal Augusto Santos Silva in Lisbon on November 14, within the framework of his visit to Portugal.
November 17, 2023 1:16 PM GMT+7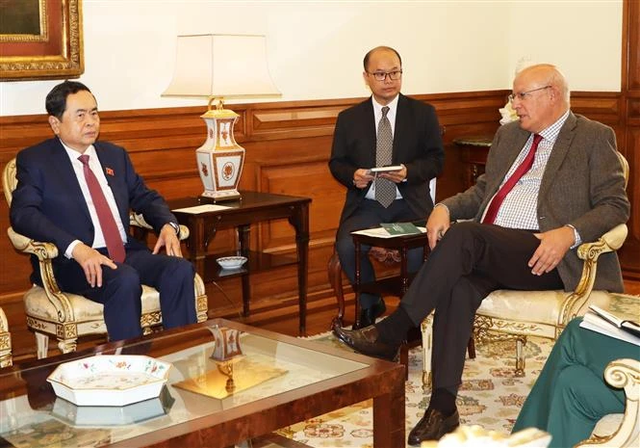 At the meeting, President of the Assembly of Portugal Augusto Santos Silva said that Portugal, despite its small population, was a gateway to the world thanks to its location at the meeting point of Europe, Africa and Latin America.
He suggested that Viet Nam and Portugal strengthen people-to-people exchange with a priority of opening diplomatic representative offices in each country.
For his part, Standing Vice Chairman of the Vietnamese National Assembly Tran Thanh Man affirmed that Viet Nam always treasures the relationship with the European Union (EU) and its member countries, including Portugal.
He expressed his delight that the two countries have maintained regular delegation exchanges and meetings at multilateral forums.
The Vietnamese NA Vice Chairman hailed Portugal's plan to open its diplomatic representative office in Viet Nam, pledging to create optimal conditions for and support this plan, which is expected to help foster bilateral ties and the exchange of information in many areas in the future.
He said that Viet Nam also plans to launch its embassy in Portugal in the coming time, asking for Portugal's assistance in the work.
Regarding trade and investment cooperation, Tran proposed that the two sides coordinate closely to optimize opportunities brought about by the EU-Viet Nam Free Trade Agreement (EVFTA) to complete the target of US$1 billion in two-way trade in the time to come.
He also asked for Portugal's support in persuading other EU members to ratify the EU-Viet Nam Investment Protection Agreement (EVIPA) soon.
Besides, Tran suggested that Portugal hasten the European Commission to remove the "yellow card" warning against Vietnamese seafood export, considering Viet Nam's determination and efforts in fully and earnestly implementing the EC's recommendations on sustainable fisheries development.
He proposed that Portugal continue creating favorable conditions for the Vietnamese community to settle down and integrate into the host society.
Also, on November 14, NA Standing Vice Chairman Tran Thanh Man met with Filipe Leite de Sousa, a representative from the Vovinam Federation in Portugal (WFVV).
The official lauded the federation's activities to popularize traditional Vietnamese martial arts. Filipe Leite de Sousa vowed to continue to work hard for stronger friendship and cooperation between Portugal and Viet Nam./.