PM receives newly-appointed UN Resident Coordinator in Viet Nam
VGP - The Vietnamese Government will continue promoting cooperation with the United Nations (UN) and creating the most favorable conditions for UN organizations to effectively carry out cooperation programs and projects in the country.
July 14, 2022 2:45 PM GMT+7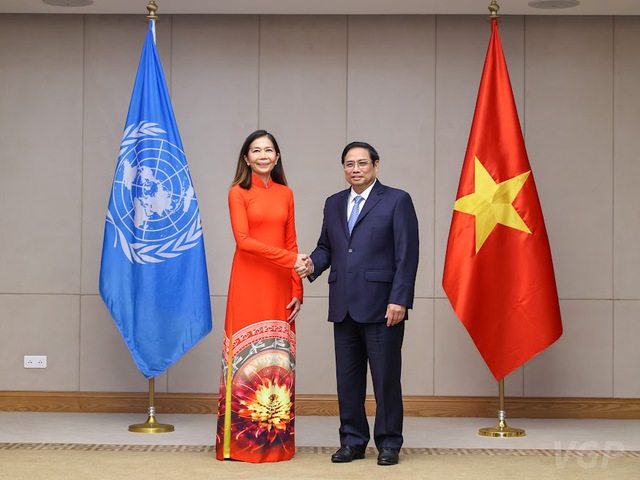 Prime Minister Pham Minh Chinh made the above statement on July 13 while hosting a reception for newly-appointed UN Resident Coordinator in Viet Nam Pauline Tamesis who came to present the UN Secretary-General's credentials, beginning her term of office in the country.
At the meeting, the Government leader affirmed the nation's foreign policy of independence, self-reliance, multilateralization and diversification of relations, and strongly advocating multilateral cooperation and the UN's central role in maintaining peace and promoting development cooperation around the world.
Pham underscored the need to respect the UN Charter and international law, particularly the principles of respecting independence, sovereignty and territorial integrity, and peacefully settling international disputes.
It is necessary to have global approaches for handling global issues, promote international solidarity and multilateralism, regard people at the center in handling common challenges and not to sacrifice social welfare and security or the environment for economic development, said the PM.
He expressed thanks to the UN for its support to Viet Nam over the last 45 years, especially in donating vaccines and medical equipment to help the Southeast Asian country in its COVID-19 fight.
The country has made great efforts and contributions to the UN work, including its successful tenure as a non-permanent member of the UN Security Council (UNSC) for 2020-2021, and sending officials to join UN peacekeeping operations, Pham noted.
He expected that the UN will continue coordinating and supporting Viet Nam in the upcoming time, particularly in realizing sustainable development goals, post-pandemic recovery, social welfare and climate change commitments.
For her part, Tamesis spoke highly of Viet Nam as one of the emerging countries in the region and the world for its dynamism, active contributions to the international community and a model in cooperation between the UN and a developing nation.
She also congratulated the country on its achievements in the fight against COVID-19 and economic recovery.
Tamesis highlighted the significance of this year as the two sides celebrate the 45th year of cooperation, and it is also the first year to implement the Framework for Sustainable Development Cooperation between the two sides for 2022-2026.
She pledged to do her utmost to coordinate with UN organizations to help Viet Nam in sustainable socio-economic development, post-pandemic recovery and the implementation of key cooperation contents between the UN and Viet Nam./.