PM receives Australian Assistant Minister for Manufacturing
VGP - Prime Minister Pham Minh Chinh suggested Assistant Minister for Manufacturing and Assistant Minister for Trade Tim Ayres promote the economic, trade and investment ties between the two nations during their meeting in Ha Noi on October 17.
October 17, 2022 6:46 PM GMT+7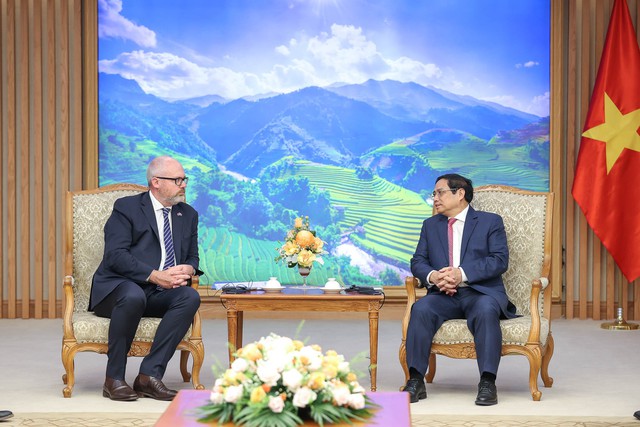 Tim Ayres is paying a visit to Viet Nam during which he will co-chair the Organization for Economic Co-operation and Development (OECD)-Southeast Asia Ministerial Forum in Ha Noi.
The Prime Minister asked Australia to continue close coordination with Viet Nam as the co-chair of the OECD Southeast Asia Regional Program (SEARP) for the 2022-2025 tenure as it creates an opportunity for both sides to strengthen cooperation at both bilateral and multilateral aspects.
With the people-centered spirit, OECD nations, including Australia, should help ASEAN Member States enhance human resource development and vocational skills, said Pham.
Regarding Viet Nam-Australia relations, Pham suggested Australia continue increasing import of Viet Nam's agricultural and aquatic products and encourage more Australian enterprises to invest in renewable energy, high-tech and strategic infrastructure development in Viet Nam.
Pham took the occasion to express thanks to Australia for donating COVID-19 vaccines to Viet Nam and advocating the country's candidature to win a seat on the United Nations Human Rights Council (UNHRC) in the 2023-2025 tenure.
For his side, Tim Ayres spoke highly of the role of Viet Nam as the co-chair of SEARP for the 2022-2025 tenure, adding that Australia will continue close collaboration with and support for Viet Nam to realize its tasks and accelerate the implementation of cooperative contents within the OECD.
The Australian Government always attaches importance to deepening the strategic partnership with the Southeast Asian nation.
Tim Ayres called on the two nations to further bolster coordination in handling regional and global challenges, including climate change and energy security.
Regarding the East Sea issue, the Australian Assistant Minister backed Viet Nam's viewpoint on addressing disputes via peaceful measures in line with international law, including the 1982 United Nations Convention on the Law of the Sea (UNCLOS 1982) and voiced support for early conclusion of a comprehensive and effective Code of Conduct in the East Sea (COC)./.