Ony trust, sincerity and solidarity can help int'l community promote global peace, cooperation and development
VGP – Only trust, sincerity and solidarity on a global scale, with the central role of the United Nations and active participation of all countries, can help the international community to overome challenges, promote peace, cooperation and development, and bring happiness and prosperity to all people.
September 23, 2023 8:19 AM GMT+7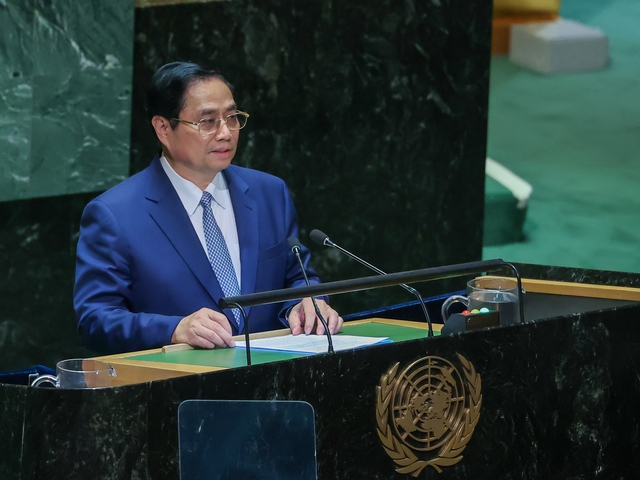 Prime Minister Pham Minh Chinh made the above statement while addressing the high-level general debate of the 78th session of the United Nations General Assembly in New York, the U.S. on September 22.

He said that the world's leaders bear the responsibility to work together to consolidate and enhance trust, sincerity, and solidarity; promote multilateral and bilateral cooperation; effectively cope with global challenges; foster sustainable development in which people are the center, subject, target and driving force of the development process.
From that perspective, Prime Minister Pham underlined the important role of major powers in cultivating trust and spreading sincerity and sense of responsibility.
He called for a global solution to promote international solidarity, cooperation, and multilateralism, uphold the central role of the United Nations, support the plan on sustainable development goals acceleration.
It is necessary to pursue solidarity instead of division, dialogue instead of confrontation, cooperation instead of isolation, Pham said.
The Vietnamese Government chief also called for promoting comprehensive economic, political, social solutions to ensure stability, security, safety, including solutions to beef up transition to green economy, digital economy, circular economy, sharing economy, knowledge economy as well as innovation, reduction of trade barriers, and reform of international financial-monetary institutions.
Pham called for assistance in terms of finance, technology, human resource training, and governance got developing countries, underdeveloped countries, and countries most vulnerable to climate change and epidemics.
He reassured that Viet Nam will continue consistent pursuance of its foreign policy of independence, self-reliance, diversification and multilateralization of external affair; being a good friend and a trusted partner of all countries; and being an active and responsible of the international community.
Viet Nam pledges to continue stronger and more responsible contributions to the United Nations' priorities, particularly with regard to joining peacekeeping operations and achieving net-zero emissions by 2050, he added.
Pham commits to working with countries inside and outside the region in maintaining peace, stability, security, safety and freedom of navigation and avitation in the East Sea on the basis of international law and the 1982 United Nations Convention on the Law of the Sea.
He called on parties to exercise self-restraint, avoid taking unilateral actions, and settle disputes and divergences through peaceful measures, including diplomatic and legal processes.