Netherlands stands ready to help Viet Nam secure economic rebound process: Ambassador
VGP - The Netherlands stands ready with its knowledge, experts and companies to assist Viet Nam in securing the economic rebound process.
June 17, 2023 11:00 PM GMT+7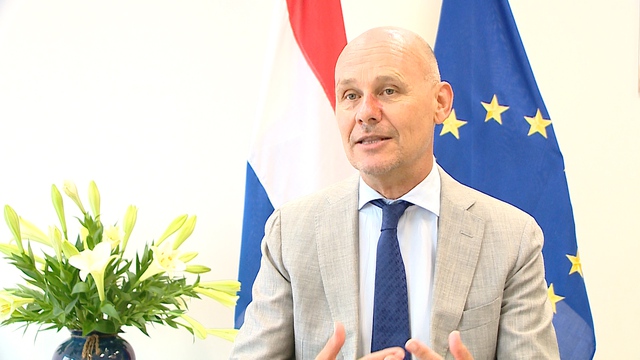 In his interview with the VGP, Dutch Ambassador to Viet Nam Kees van Baar expressed his confidence that despite headwinds facing the nation's economy at the start of the year, Viet Nam's GDP growth would accelerate to 6.5 percent by the end of this year as set by the National Assembly.
The country is projecting significant economic growth, is benefiting from various free trade agreements and the shifting of supply lines, he said.
According to the diplomat, economic growth and increasing exports however need to be supported by a reliable and efficient logistics sector and good infrastructure. This also includes for instance digitalization of custom procedures and multi-modular logistics.
The Ambassador underlined the importance of creating favorable and welcoming conditions for international business, adding that he Netherlands will continue dialogue with the Vietnamese Government on this.
"Together, we can further improve the business environment in order to generate more growth", shared Kees van Baar
Viet Nam, Netherlands enjoy thriving ties
Regarding the outcomes of the bilateral relations, the Ambassador noted that the Netherlands and Viet Nam have long supported each other and became trusted partner. This year the two nations are celebrating the 50th anniversary of diplomatic ties.
Two countries have a lot in common, including large deltas, serious water and climate challenges. They have strategic partnership on climate change adaption and water management on sustainable agriculture and food security.
Both sides have worked on a variety of subjects, including the sustainable development of the Mekong Delta with nature-based and integrated solutions, water supply, sanitation, mangrove restoration to strengthen coastal climate resilience, or the exchange knowledge and expertise on sand sourcing and groundwater extraction.
The COVID-19 pandemic impacted the projects' overall implementation, but it also showed the leap the two nations made when it comes to digitalization.
"It was impressive to see that a lot of activities could continue online and with the right creativity both sides management to minimize the delays. It shows the resilience of our partnership and the motivation to work together", underlined the diplomat.
The cooperation between the two countries will continue to grow and develop and go way beyond the agro-water nexus, connecting other dots such as smart logistics, circular economy, renewable energy, waste treatment, seaport development and so on.
This would enable better and faster access for products from the Mekong Delta to other parts of Viet Nam and international markets.
Both sides expand cooperation not only at the government level, remarkably the official visit of the Netherlands's Prime Minister to Viet Nam in 2019 and Vietnamese PM Pham Minh Chinh's official visit to the Netherlands in 2022, but also between universities, research institutions, businesses and civil society organizations.
In term of economic cooperation, the Netherlands currently is the largest European investor in Viet Nam with total projects worth US$14 billion.
Huge cooperation potential in clean energy development
Ambassador Kees van Baar spoke highly of the National Power Development Plan VIII (PDP8) for the period 2021-2030 which was approved in recent May.
"It is excellent that Viet Nam has come out with the plan. It gives investors a lot of confidence that the nation is working seriously to realize its commitment made at the COP26", he noted.
The PDP 8 is what investors need and there is a link with the Just Energy Transition Plan. A good power infrastructure is key.
European companies do not only need power, but this power should be clean as well, which means not from fossil power as it will increase the carbon print of their products and then they have to pay more tax in the EU.
A lot of European companies are able to create that power themselves, with windmills or, more common, with solar roof panels. Here lies a huge potential because they can even create more energy than they need. Viet Nam can use this surplus energy to supply to other energy users.
"In this special year 2013, we wish to celebrate our strong relationship by exploring how we can further cooperate in all spheres of innovative technological solutions in the fields of agriculture, water, logistics, high tech, green energy and circular economy", shared the diplomat./.