Indian Independence Day marked in Ha Noi
VGP - The Indian Embassy in Viet Nam held a ceremony marking the 77th anniversary of India's Independence Day (August 15, 1947 - 2023) in Ha Noi on August 16.
August 17, 2023 6:18 PM GMT+7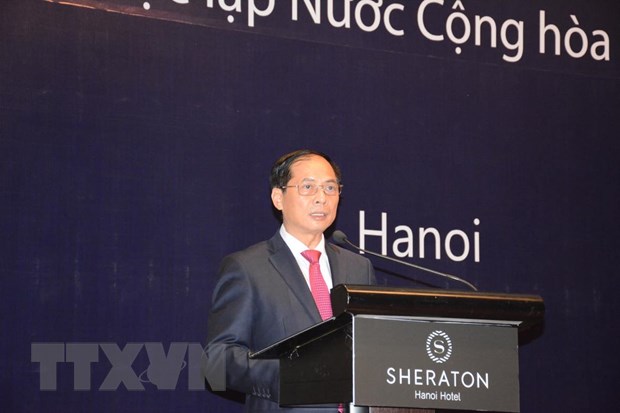 In his remarks at the ceremony, Minister of Foreign Affairs Bui Thanh Son, on behalf of the Government of Viet Nam, congratulated the Indian Government and people on the anniversary.
The minister said India had made miraculous development strides to become the world's fifth-largest economy and one of the most powerful countries in terms of military, science-technique, information technology, biology, and medicine.
It is also increasingly affirming its central role in the international arena.
Bui also congratulated India on its achievements in internal and external relations, including its successful presidency of G20 and the Shanghai Cooperation Organization (SCO) in 2023.
Boasting a long-standing friendship, Viet Nam and India have assisted each other during trying times in history, he said.
In recent years, the two countries' comprehensive strategic partnership has grown unceasingly in all aspects. During the phone talks on April 15, 2022, Party General Secretary Nguyen Phu Trong and Indian Prime Minister Narendra Modi agreed on many significant orientations for the countries' relations.
Bui expressed his belief that Viet Nam and India would further develop their comprehensive strategic partnership to bring practical benefits to the two countries' people while contributing to peace, stability, cooperation, and development in Asia-Pacific and the world.
For his part, Indian Ambassador Sandeep Arya noted the year 2023 is an important milestone on his country's path of growth, development, and progress, as well as in its global contributions, especially its role as the G20 President.
The Indian Government and people have been exerting efforts to help with peace and prosperity in the Indo-Pacific region, preside over the SCO, and implement the recently upgraded India - ASEAN comprehensive strategic partnership.
The Ambassador affirmed that Viet Nam is a special partner of India, and the solidarity, mutual trust, and cooperation between the two countries are always solid and reinforced.
The two countries' similar approaches to international relations and their people's profound sentiment, the bilateral friendship will develop even more strongly and remain a pillar of support for each other, he stressed./.