IFC helps promote sustainable rice production in Viet Nam
VGP - The International Finance Corporation (IFC) is supporting a food joint stock company to enhance its rice production quality and sustainability, with a view to boosting the value and competitiveness of Viet Nam's agricultural sector.
November 14, 2023 1:48 PM GMT+7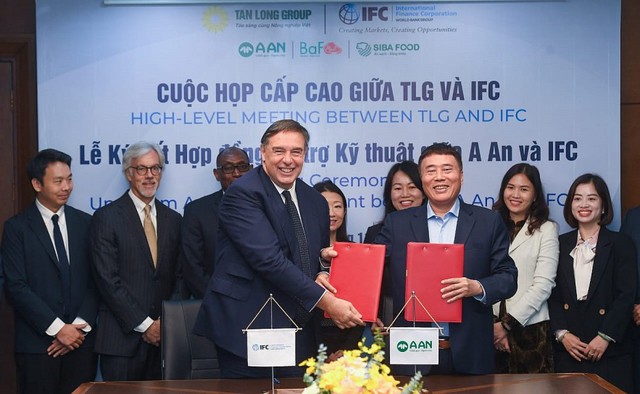 This will raise income for farmers and mills along the company's supply chain and reduce greenhouse-gas emissions in rice farming.
Under the new advisory agreement, IFC will help A An Food JSC, the rice business subsidiary of Tan Long Group, a key agribusiness player in the country, develop a safe, low-carbon, high-quality, and sustainable rice supply chain.
This includes supporting thousands of rice farmers and mills in adopting food safety measures, food loss prevention, and low-carbon practices, lowering production costs by up to 15 percent and reducing the post-harvest loss rate by half, to below 8 percent by 2030.
The announcement of the new partnership with Tan Long Group was made as IFC's Regional Vice President for Asia and the Pacific, Riccardo Puliti, arrived in Viet Nam for a two-day visit, aiming to focus on the country's transition to a productive, high-value and low-carbon growth model.
As Viet Nam aims to become a high-income economy by 2045, boosting the agriculture sector's value and competitiveness by improving production, reducing losses, and enhancing safety, quality and sustainability will be critical to make the sector continue to be the key contributor to economic growth and job creation, said Puliti.
By supporting local agribusinesses like Tan Long Group to develop local food systems that are greener, more productive, and resilient to a changing climate, the IFC is not only helping strengthen the country's food supply chain but also reducing emissions from agriculture, enabling Viet Nam to achieve net-zero by 2050, he added.
Active in Viet Nam for more than 20 years, IFC-a member of the World Bank Group-has been a key partner in the country's development journey, and that of its private sector, providing billions of dollars to local businesses to grow and create jobs since its first in-country investment in 1994.
Sustainability and climate are a priority for IFC in Viet Nam as the institution has committed over US$900 million in long-term finance to support climate-related projects in the country.
Recently, IFC invested up to VND 3,500 billion (around US$150 million) in Viet Nam's first local currency sustainability-linked bonds—issued by BIM Land Joint Stock Company and its subsidiary Thanh Xuan Joint Stock Company—to allow the developers to improve water conservation and energy efficiency in three of their hospitality assets./.