Ha Long Bay named among world's 51 most beautiful places: Condé Nast Traveler
VGP - U.S. magazine Condé Nast Traveler has named UNESCO-recognized heritage Ha Long Bay among 51 most beautiful places in the world.
November 07, 2023 6:10 PM GMT+7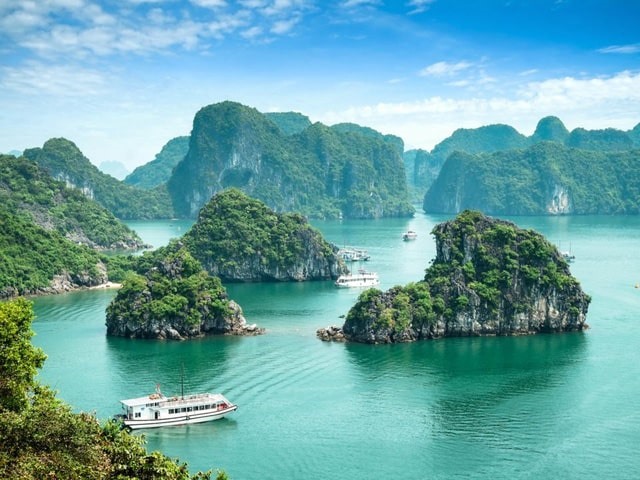 According to the magazine, Ha Long Bay, located in the northern province of Quang Ninh, is beloved for its blue waters and spread of limestone islands, all occupied by tropical trees and wildlife.
The core area of Ha Long Bay was recognized twice by UNESCO as a World Natural Heritage site in 1994 and 2000, with global special values of geology.
On November 12, 2011, Ha Long Bay, was announced by New Open World Organization, as one of seven new natural wonders of the world.
The bay is seated on an area of around 1,553 square meters, including 1,969 islets, most of which are limestone.
The core of the bay has an area of 334 square meters with a high density of 775 islets. The limestone in this bay has gone through 500 million years of formation in different conditions and environments.
The bay, with a coastline of 120 km, is home to 14 endemic floral species and about 60 endemic faunal species.
This is not the first time Ha Long Bay has been proposed as an attractive destination in the world.
In recent October, US-based Forbes Magazine lists Ha Long Bay in top 24 tourism destinations in the world in 2024.
Earlier, in April 2023, CNN's travel website recognized Ha Long Bay as one of the 25 most beautiful destinations in the world.
Prior to that, also in 2023, the famous travel magazine Travel+Leisure (Asian edition) voted Ha Long Bay one of the top destinations to watch the most beautiful sunrise and sunset in Asia./.