Green development, energy transition, and emissions reduction are inevitable trends: Prime Minister
VGP - Green development, energy transition, and emissions reduction are inevitable trends, which create opportunities to develop and restructure the economy towards a green and sustainable manner.
July 15, 2023 4:42 PM GMT+7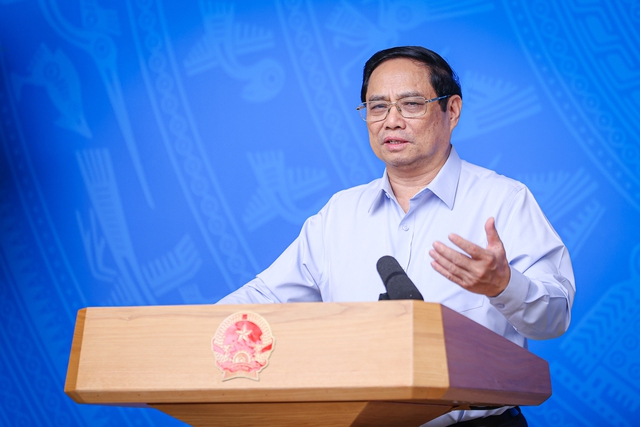 Prime Minister Pham Minh Chinh made the above statement in Ha Noi on July 14 while addressing the 4th meeting of the national steering committee for implementing Viet Nam's commitments at the COP26.
Pham, who is also the head of the steering committee, noted that green development must be sustainable, inclusive and comprehensive, with the motto of leaving no one left behind.
He underlined the need to perfect institutions, mechanisms and policies; mobilize all resources, including resources from international green finance; and promote technology transfer, knowledge and experience exchanges with other countries and international organizations.
The Government chief required mobilizing the participation of the whole society in realizing Viet Nam's commitments at the COP26 and the Just Energy Transition Partnership (JETP) implementation plan.
Relevant ministries and agencies should actively engage in discussions with the International Partners Group, the Glasgow Financial Alliance for Net Zero (GFANZ), and other stakeholders on climate change adaption and green conversion issues, he said.
Pham tasked the Ministry of Natural Resources and Environment to build a decree on carbon credit management and work with the Ministry of Agriculture and Rural Development to submit to the PM to issue a directive on forest carbon credit management in Viet Nam.

The Ministry of Industry and Trade (MoIT) was assigned to design the Pilot Direct Power Purchase Agreement (DPPA) between renewable energy generators and major electricity consumers to accelerate just energy transition projects in line with Viet Nam's commitments at the COP26.
Meanwhile, the MoIT must promulgate regulations to encourage the development of rooftop solar power generation projects; complete a strategy for hydrogen production in Viet Nam; and develop a chapter on renewable energy in the draft Electricity Law, the PM requested.
The Ministry of Finance should focus on completing the carbon market development master plan and submit to the PM in July 2023 while continuing to improve mechanisms and preferential policies for green growth, he stressed.
At the event, the steering committee announced the PM's decision on the establishment and debut of the Secretariat for the implementation of the Political Declaration on establishing the JETP.
The Secretariat is led by Minister of Natural Resources and Environment Dang Quoc Khanh.
Earlier, at the COP26, Vietnamese Prime Minister Pham Minh Chinh committed to achieving net-zero emissions by 2050, sending a strong message to the international community that Viet Nam is determined to embark on sustainable and inclusive development path./.