Gov't revises up GDP growth to 8% this year
VGP - Viet Nam is aiming for GDP growth of 8 percent this year compared to the previous official target of 6 percent to 6.5 percent, Prime Minister Pham Minh Chinh told legislators on Thursday.
October 20, 2022 5:20 PM GMT+7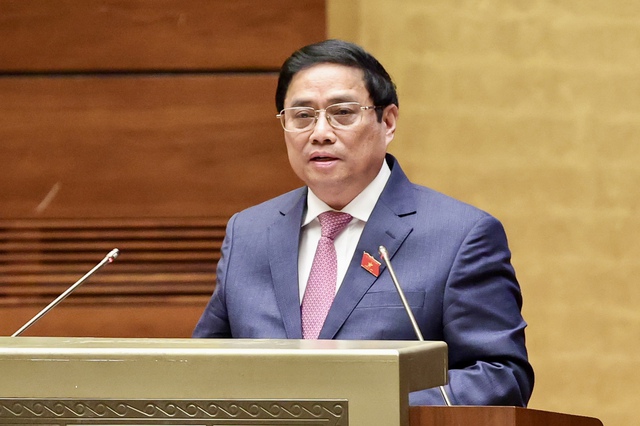 The Government chief said the global situations have evolved in a faster and more complicated manner due to the Russia-Ukraine conflict, coronavirus disease (COVID-19) pandemic, and tightening of financial, monetary policy, energy security, posing risks on the outlook of the Vietnamese economy.
Domestically, soaring inflation pressure, sharp hikes of oil, petrol, and raw materials affect a wide range of sectors and fields. Meanwhile, prolonged problems, which have yet been resolved, coupling with diseases and natural disasters have brought out negative impacts on both business performance and people's livelihood.
However, in the first nine months of 2022, the macro-economy was basically stable, inflation was put under control, economic growth recovered positively, major balances of the economy were ensured in difficult conditions, noted Prime Minister Pham.
Especially, 14 out of 15 major socio-economic development targets set for 2022 had been fulfilled or even exceeded in the reviewed period, he added.
Consumer Price Index (CPI) jumped 2.73 percent on average in the January-September period and is expected to touch around 4 percent for the whole year.
The country's GDP growth accelerated to 8.83 percent in the first three quarters and is forecast to reach about 8 percent.
Growth rates of agriculture, industry-construction, and service were 2.99 percent, 9.44 percent and 10.57 percent respectively.
Total value of trade with the rest of the world reached over US$558 billion, representing a year-on-year increase of 15 percent.

Around VND 87 trillion (US$3.8 billion) of budget had been disbursed to support 56 million people and laborers and over 730,000 employers who suffered from the COVID-19 pandemic.
Key goals for 2023
The Prime Minister said that in 2023 the Government will continue to prioritize macro-economic stability, inflation control, economic growth, and major balances of the economy.
In addition, the Government will also focus on prevention and control of COVID-19 and other diseases; restructure and improve the resilience of the economy, and consolidate and develop growth impetus.
The Government will also focus on implementing the strategic breakthroughs, socio-economic recovery and development program, and three national target programs.
Earlier, the International Monetary Fund (IMF), the World Bank (WB) and other international institutions revised up their GDP growth projections for Viet Nam in 2022./.