Gov't chief visits tech giants in Silicon Valley
VGP - Prime Minister Pham Minh Chinh visited Intel, Apple and Google tech giants in the Silicon Valley in California on May 17 (local time).
May 18, 2022 5:09 PM GMT+7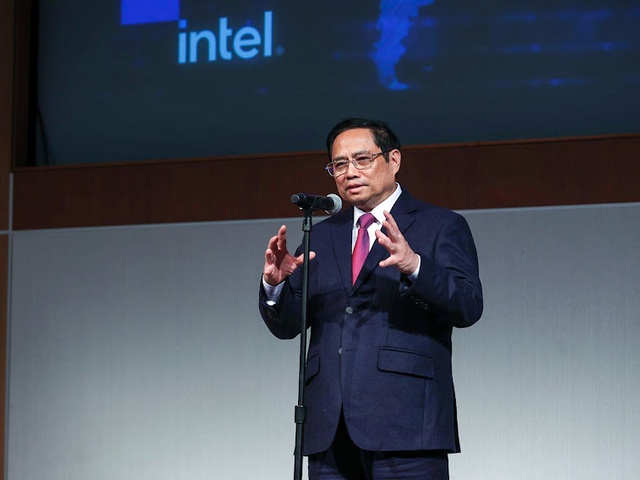 Smart choice to invest in Viet Nam
Based on solid ground of the Viet Nam-U.S. relations, Intel made a smart choice to invest in Viet Nam, said Pham at his reception for Mr. Keyvan Esfarjani, the Executive Vice President at Intel Corporation.
The leading American chipmaker Intel has finalized the first phase to build a state-of-the-art chip assembly and test manufacturing (ATM) facility in Viet Nam.
Keyvan Esfarjani stressed that Viet Nam plays an important role in Intal's supply chain. He highly spoke of Viet Nam's manpower and infrastructure conditions which offer abundant potentials for tech enterprises to set footholds and expand operation.
Pham suggested Intel expand activities in other localities in Viet Nam besides Ho Chi Minh City, affirming that Viet Nam will consider Intel's proposals in the spirit of harmonized benefits and shared risks.
He hoped that the tech giant will make contributions to the digital transformation process in Viet Nam.

Fair business environment for foreign investors
Viet Nam always attaches importance to economic and financial ties with the U.S., seeing it as a driving force for the Viet Nam-U.S. comprehensive partnership, said Prime Minister Pham Minh Chinh while meeting with Apple CEO Tim Cook.
So far, Apple has yet laid any direct factories in Viet Nam. However, 31 assembling partners of Apple have factories in 14 Vietnamese cities and provinces. They recruited 160,000 employees and assembled AirPod headphones, Apple watches and Homepod Mini speakers.
Prime Minister Pham said that the Vietnamese Government pledges to continue working for a fair and transparent business environment for American enterprises and investors.
He asked the American tech giant focus on investing in developing business activities in Viet Nam in a bid to turn Viet Nam into one of its major markets in Asia.
In reply, the CEO thanked the Vietnamese Government for offering favorable conditions for Apple to do business in VietNam.
Apple wishes to expand the supply chain in the Vietnamese market, and coordinate with Vietnamese businesses that are qualified to participate in Apple's value chain, said Tim Cook.
The CEO also agreed to actively consider the Prime Minister's proposal to increase the number of domestic suppliers and raise the rate of using domestic services and goods higher in Apple products in the near future.
Developing sustainable digital ecosystem
The same day, Prime Minister Pham and his entourage visited the Google Headquarters.
Senior Vice President at Google in charge of a new hardware division Rick Osterloh welcomed the Vietnamese delegation and expressed an aspiration to make contribution to economic growth and sustainable digital ecosystem in Viet Nam.
Pham suggested Google continue to support Viet Nam in the digital transformation process, as well as the building of an e-governance, a digital society and a digital economy./.