Foreign Minister holds phone conversation with Omani counterpart
VGP - Oman attaches importance to promoting the multi-faceted relations with Viet Nam, underscored Oman's Foreign Minister Sayyid Badr bin Hamad bin Hamood Al Busaidi in his phone conversation with Vietnamese FM Bui Thanh Son on June 22.
June 23, 2022 2:33 PM GMT+7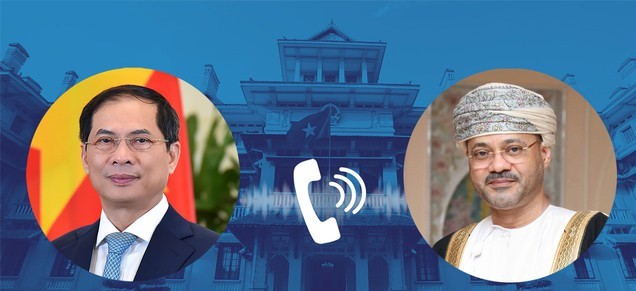 The phone conversation took place on the occasion of the 30th anniversary of the two countries' diplomatic ties (June 9, 1992).
Economic cooperation is the spotlight in the two nations' relationship, FM Bui noted, adding that the bilateral trade in 2021 doubled the previous year's figure, reaching US$338.1 million.
The two ministers discussed and consented on a number of measures to foster the bilateral cooperation in the upcoming time, including enhancing delegation exchange at all levels and promoting close coordination at international forums and organizations.
They pledged to maintain effective operation of the existing cooperation mechanisms such as the inter-Governmental Committee and the political consultation between the two foreign ministries.
Both sides highlighted the necessity of jointly organizing trade and investment promotion activities, sharing information, connecting their enterprises and speeding up the signing of crucial cooperation agreements to create a sound legal framework for bilateral cooperation.
Bui took the occasion to invite the Omani FM to visit Viet Nam and the latter gladly accepted.