Foreign Minister attends meeting of OECD Council at Ministerial Level
VGP - Foreign Minister Bui Thanh Son attended the 2023 Meeting of the Organization for Economic Co-operation and Development (OECD) Council at Ministerial Level in Paris, France on June 7.
June 08, 2023 12:37 PM GMT+7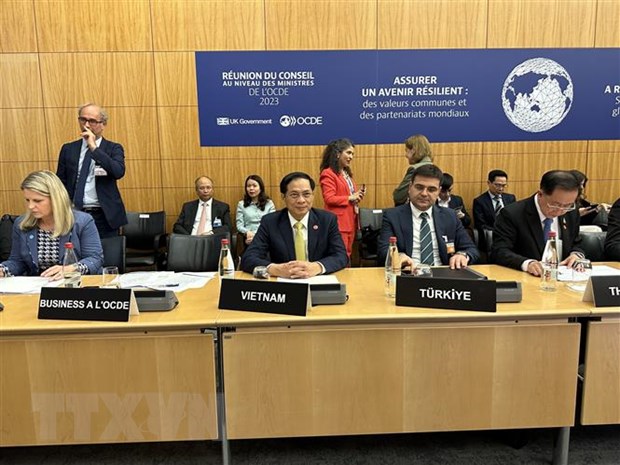 Addressing the event, Bui underlined the necessity to put in place a people-centered and global approach in stimulating sustainable and inclusive growth.
All the nations should create new growth drivers, promote technology application and innovation, heading to create a greener, smarter and cleaner ecosystem, he said, adding that the process should be carried out in a synchronous and smooth manner in a bid to leave one behind.
He called on the OECD and other nations to strengthen policy coordination, reduce barriers, protect trade and investment and build a smooth global trading system, on the basis of the rule of law, freedom, fairness, transparency and inclusiveness with the World Trade Organization (WTO) at the center.
The OECD, as a policy adviser, should set global standards, continue to strengthen linkages and dialogue with developing countries and take into account the conditions and viewpoints of non-OECD countries in the process of formulating policies and global standards, he recommended.
Besides, the OECD should continue supporting developing nations to improve its competitiveness in the global value chains, effectively adapt to adjustments in the global policy, including the global minimum tax and carbon border tax, shorten digital and technology gaps and unleash the potential of female workers and small and medium-sized enterprises, Bui noted.
As a co-chair of OECD's Southeast Asia Regional Program, Viet Nam will host the second OECD Southeast Asia Ministerial Forum in October 2023, the diplomat shared.
With a theme "Securing a Resilient Future: Shared Values and Global Partnerships", the event was attended by ministers of finance, economy, foreign affairs, trade and other government departments from OECD member and partner countries, and by representatives of international organizations.
Participants discussed measures to create new impetus for global economic, trade and investment growths, enhance supply chain diversification and self-enhancement and speed up energy transition./.