Economic cooperation is cornerstone of Korea-Viet Nam ties
VGP - The Korea Times hosted the second edition of its Global Business Club, spotlighting potential opportunities in Viet Nam, a country that has risen to become Korea's third largest trading partner amid rising global uncertainties.
May 23, 2023 1:50 PM GMT+7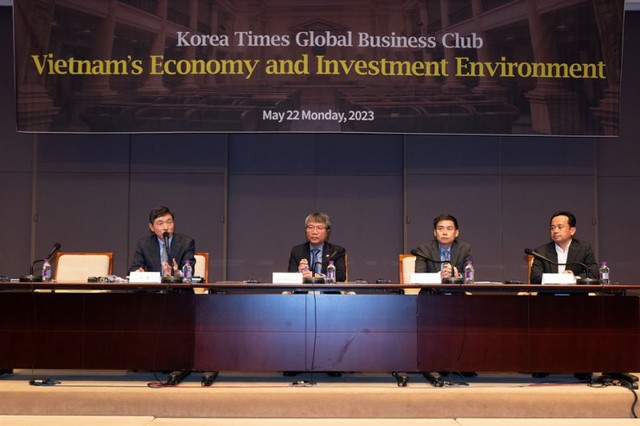 Oh Young-jin, president-publisher of the English-language daily, opened the exclusive business club-style event at the Korea Press Center in central Seoul, Monday, introducing the remarkable economic growth of Viet Nam and its potential for enhancing relations with Korea.
"Many experts consider Viet Nam as a nation with the most sustainable growth model, its market set to be no less important than that of China. Against this backdrop, the Global Business Club has organized a lecture about Viet Nam. I strongly hope that today's lecture will provide meaningful insights for all attendees and help open up new opportunities for those who are pursuing or will pursue business in Viet Nam," Oh said.
Vietnamese Ambassador to Korea Nguyen Vu Tung noted in his keynote speech that economic cooperation is a cornerstone of Korea-Viet Nam relations, greatly benefiting both sides and being crucial to Viet Nam's economic development.
"If being asked about the most salient aspect of Viet Nam-ROK (the Republic of Korea) relations, I would refer to our economic cooperation, which has expanded fast, bringing about practical and tangible benefits to both sides and shall continue to be the cornerstone of this Strategic Comprehensive Partnership relations," the ambassador said.
"In fact, trade and investment flows from Korea have been crucial to Viet Nam's economic development. Broadening economic cooperation with Korea has paved the way for Viet Nam to deepen our international economic integration, gradually boosting growth, thereby, moving the country away from the status of a less developed country to a lower middle-income country like Viet Nam today."
He said Viet Nam offers vast opportunities for Korean businesses.
"They include and are not limited to Viet Nam's fast-growing market of 100 million people, a young and industrious workforce, and bigger middle class with stronger consumption needs, with Viet Nam being situated in one of the most economically dynamic regions of the world, participating in 15 multilateral free-trade arrangements," Tung said.
The recent upgrade in Viet Nam-Korea relations to a Comprehensive Strategic Partnership aims to foster cooperation in areas like politics, security, and sustainable development, which will reinforce their bond, notwithstanding the current challenges they face.
"The prospect of economic cooperation between Viet Nam and Korea is very promising. But it does not mean that things are all rosy... Vietnamese and Korean businesses are having difficult times, seen in the reduction of both trade and investment volumes. That is to say our economic cooperation is enjoying greater opportunities but at the same time facing greater challenges, too," the ambassador said.
"All in all, this is a very exciting time to move Viet Nam-Korea economic cooperation forward. In this context, I greatly appreciate today's event and look forward to the presentations and discussions, which by themselves, clearly show how deeply all of us present here care about our bilateral relations."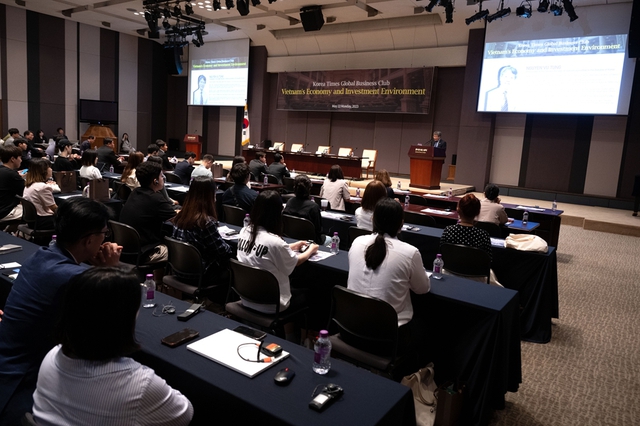 First Secretary and Head of Investment Office Pham Viet Tuan provided insights into the Vietnamese economy and its investment landscape, while First Secretary and Head of Trade Office Pham Khac Tuyen highlighted the bilateral trade and industrial collaborations.
Tuan gave an overview of Viet Nam's economy along with a detailed account of Korea's investments in the Southeast Asian country. He projected the pathway for future investment opportunities, stating that Viet Nam should evolve to become an increasingly suitable investment destination for high-tech industries like semiconductor and battery production as well as for start-ups.
Although the bleak global economic climate has also affected Viet Nam, Tuyen outlined the country's strategy to navigate these challenges by bolstering collaboration with Korea in sectors such as critical minerals, textiles, automobiles and energy.
Both first secretaries, having studied in Korea, exemplified the strong ties between the two countries by giving presentations and answering questions in fluent Korean.
Former Ambassador of Korea to Viet Nam Lee Hyuk, who also previously served as secretary general of the ASEAN-Korea Centre, moderated the Q and A and discussion session with the envoys.
The event drew approximately 100 attendees, signifying the heightened interest in Viet Nam in Korea. Participants included executives from some of Korea's leading companies, academics specializing in Asian studies and Korean and Vietnamese students engaged in Vietnamese studies, who are anticipated to become the bridges between Korea and Viet Nam in the near future.
Park Sung-ho, a junior at the Department of Asian Languages and Civilizations at Seoul National University, said the event offered a deeper insight into Viet Nam.
"Although I mainly study language and literature, I am also interested in the economy and economic cooperation with Southeast Asian countries," Park said.
He asked how the adoption of smart farming could transform Viet Nam, a country where approximately 70 percent of the population is involved in the agriculture industry.
The ambassador said smart farming presents a new opportunity for collaboration between Viet Nam and Korea.
"These technologies, especially ones focusing on agricultural techniques, could boost the agricultural sector in Viet Nam and the products derived from this cooperation could potentially be exported back to Korea," he said.
"This would bolster the trade volume between our countries. Moreover, Viet Nam and Korea could work together to innovate smart farming and increase food exports to other countries, presenting even greater prospects for our partnership," he added./.
(according to The Korea Times)