Viet Nam, South Korea elevate ties to comprehensive strategic partnership
VGP – Vietnamese President Nguyen Xuan Phuc and President of the Republic of Korea Yoon Suk Yeol have agreed to elevate the relationship between the two countries to comprehensive strategic partnership.
December 05, 2022 7:27 PM GMT+7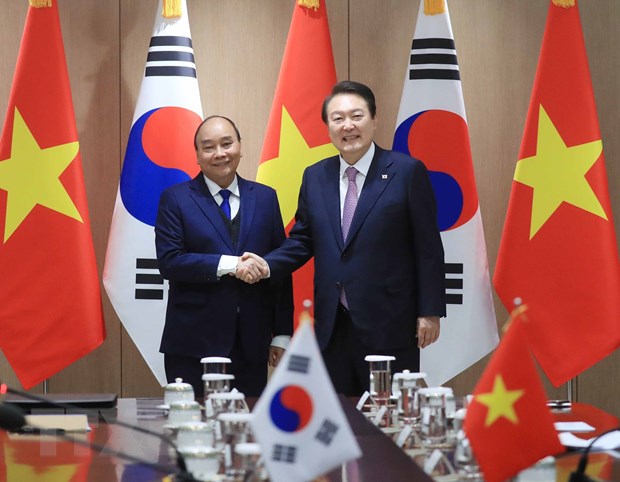 The agreement was reached during their summit meeting in Seoul, the Republic of Korea on December 5.

Speaking at the press briefing after the meeting, President Nguyen, who is on a three-day State visit to the Republic of Korea, expressed his belief that the new partnership framework will usher in new period of robust development in the bilateral ties for the benefits of the two countries and for peace, stability and development in the region and the world.
He went on to say that both sides will continue regular exchanges and contacts in flexible manner and format, and timely share information and coordinate views on bilateral cooperation as well as regional and international situation.
The two sides reaffirmed their resolve to realize the goal of raising the two-way trade to US$100 billion next year and to US$150 billion by the end of this decade, said Nguyen.
The Republic of Korea is the largest foreign investor in Viet Nam with total investment capital of US$80 billion. Korean businesses are expanding investment in association with technological transfer in such fields like electronics, infrastructure development, construction of green industrial parks, and smart urban development, the Vietnamese President noted.
He thanked the Republic of Korea for its aid grants and preferential credit loans, contributing to boost development in the Southeast Asian country.
Nguyen said both countries also agreed to step up and enrich the contents of manpower cooperation, and foster cultural and education exchanges in a bid to increase mutual understanding and trust between the two people.
On multilateral aspect, the two leaders agreed to step up collaboration at regional and international forums.
They reiterated the importance of ensuring security, safety and freedom of navigation and aviation in the East Sea in line with international law and the 1982 United Nations Convention on the Law of the Sea.
The pair also agreed to promote dialogue and cooperation for a nuclear-free Korean Peninsula in accordance with the Resolutions adopted by the United Nations Security Council, thereby contributing to peace, stability and development in the region and the world./.