Denmark looks forwards to setting up Green Strategic Partnership with Viet Nam
VGP - Denmark hopes to establish a Green Strategic Partnership (GSP) with Viet Nam as the South East Asian nation has a lot of potential and high ambition in transforming its energy sector in a more sustainable way, said newly accredited Danish ambassador to Viet Nam Nicolai Prytz.
October 16, 2022 6:29 PM GMT+7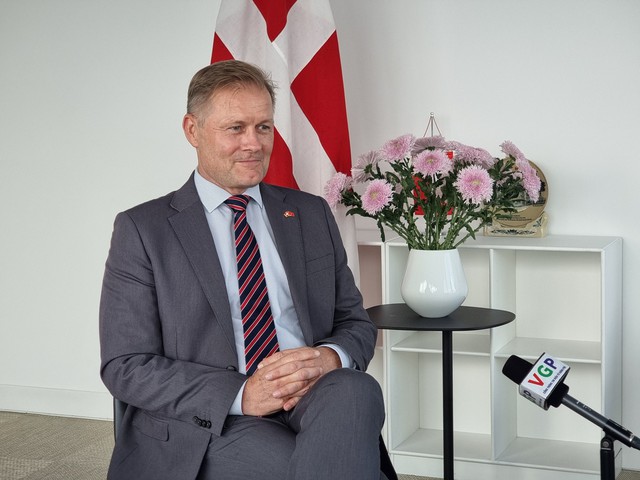 Ambassador Nicolai Prytz elaborated his plan for the coming years during an interview with the Viet Nam Government Portal (VGP) on the threshold of the upcoming visit of Crown Prince Frederik and Crown Princess Mary of Denmark to Viet Nam early this November.
Towards a Green Strategic Partnership
The Ambassador said that "Given the challenges of today like the huge climate challenges, we want to reintroduce that Denmark is a green nation to make Denmark more sustainable more green". "We want to take that to our foreign policy, we want to work with that between some of the main partners around the world. What we have introduced recently as we call green strategic partnership - GSP" the Ambassador said.
The Ambassador expressed that given today's huge climate challenges, he wants to reintroduce Denmark as a green nation and emphasize its green and sustainable image.
Denmark has already incorporated that into its foreign policy and would like to cooperate with main partners around the world on promoting this green and sustainable agenda through the Green Strategic Partnership. So far, Denmark has signed GSP with a few countries including India, the RoK, and South Africa.
According to Ambassador Nicolai Prytz, Denmark would really like to have similar cooperation with Viet Nam as Viet Nam has a lot of potential and ambition to transform its energy sector in a more sustainable way.
Specifically, the GSP would further contribute and supplement to the already existing Comprehensive Partnership Agreement signed between Viet Nam and Denmark in 2013.
During his four-year term in Viet Nam, the Danish Ambassador also expressed his wish to enhance and elevate the good cooperation and partnership between the two countries to a higher level.
Additionally, the GSP is expected to further broaden and deepen the focus on the green agenda to support Viet Nam more effectively in realizing its climate change commitments.
The Ambassador expects that GSP would be signed by the highest level of the two governments in the coming time, which will open up many good opportunities and further strengthen the cooperation between Viet Nam and Denmark, which this year also entered their 50 years of diplomatic relations.
Danish investors, for example, LEGO Group which invested more than US$1 billion in a project to build a carbon neutral plant in Binh Duong province, are increasingly looking for green energy supply for their production in Viet Nam.
High expectations for the upcoming visit
Ambassador Nicolai Prytz expressed his high expectations for the upcoming Royal visit which he called a "fantastic opportunity and fantastic event".
The official visit has a great symbolic value as it underlines the great friendship that exists between Denmark and Viet Nam.
The Ambassador was also convinced that the visit would offer a good chance for the Danish Crown Prince Couple and Vietnamese high-ranking leaders to focus on Viet Nam's green transition and sustainable development. During the visit, there will be two important conferences, one on offshore wind energy and the other on energy efficiency.
The Crown Prince Couple will be accompanied by a business delegation of 36 Danish companies. Even though a number of Danish wind energy companies are already active in Viet Nam, through the visit, even more Denmark-based wind companies will better understand the Vietnamese market and its potential.
With this visit, Denmark also aims to create a platform to share experiences and create a GSP between the two countries on innovative solutions and sustainable business practices in both energy efficiency and offshore wind.
Last year, Viet Nam was Denmark's 48th largest export market. In the first half of 2022, Denmark shipped goods to Viet Nam worth DKK 895.1 million, a fall of 8.8 percent against the same period time last year.
On the other hand, Denmark's import value of goods and services from Viet Nam totaled DKK 3.9 billion in 2021. In the January-June period, imports of goods from Viet Nam were worth DKK 2.31 billion, a rise of 44.3 percent in relation to the same period in 2021./.