Denmark pledges to support Viet Nam's 'going green' journey
VGP - Going green is good business for Viet Nam and Denmark stands ready to support the Southeast Asian nation in this journey, said Danish Ambassador to Viet Nam Kim Højlund Christensen.
October 30, 2021 7:46 AM GMT+7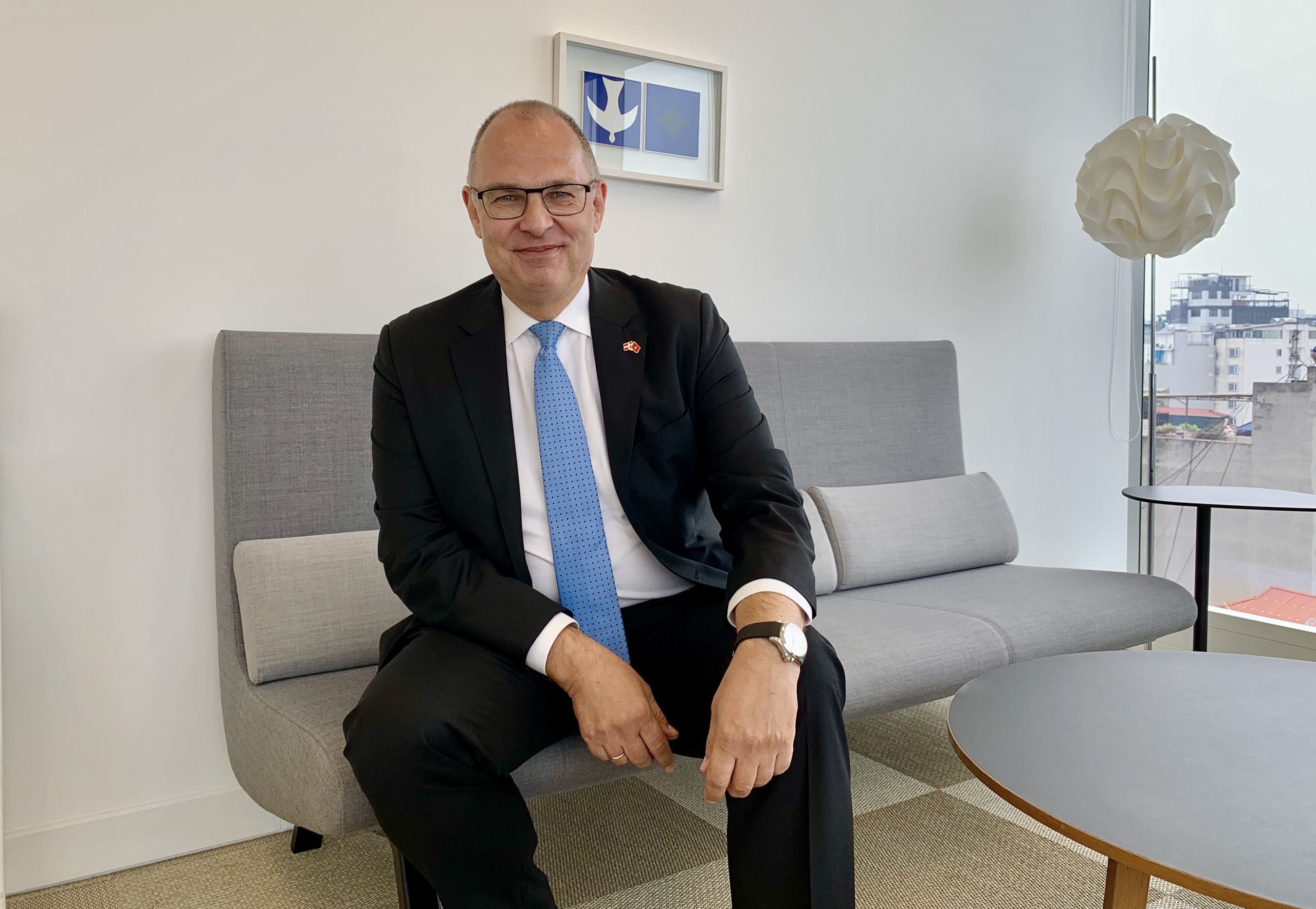 Danish Ambassador to Viet Nam Kim Højlund Christensen
The Ambassador made the point in an interview with a reporter of the Government Web Portal on the threshold of the 26th UN Climate Change Conference of the Parties (COP26).
Asked about how have Viet Nam and Denmark has cooperated in climate change response in both bilateral and multilateral aspects, Ambassador Christensen said cooperation between Denmark and Viet Nam in the areas of energy and climate has been ongoing for many years – and has evolved from traditional development cooperation to a full-fletched partnership.
Already back in 2009, Denmark was the first country to support Viet Nam's National Target Program on Climate Change. Since then, the Danish government has contributed some US$140 million to finance climate change and green growth activities in Viet Nam.
In 2013, the current Danish-Vietnamese Energy Partnership Program was established. One of the products of this cooperation is the biennial Energy Outlook Report with scenarios for a green development of the energy sector in Viet Nam.
According to the 2021 Viet Nam Energy Outlook Report, Viet Nam has a great potential for green transition, which by 2050 can save up to 320 million tons of carbon dioxide emissions annually compared to the current policy direction. This corresponds to removing the annual CO2-emission from 45 Vietnamese coal power plants. The Energy Outlook report clearly demonstrates that green solutions can make Viet Nam's energy sector more cost-effective and sustainable.
The program also encompasses collaboration on energy efficiency, grid development and more recently on offshore wind. Our collaboration has shown the potential to deliver important cuts in greenhouse gas emissions in Viet Nam while securing continued economic growth and prosperity for the people of Viet Nam.
To help Viet Nam adapt to climate change, Christensen said Denmark is keen to continue being a close and trusted partner to Viet Nam in the country's effort to handle the triple challenge of securing energy for continued economic growth, at competitive prices - while also dealing with the challenge of climate change.
These goals can go hand in hand and further ambition on climate change and green transition will have a big impact on Viet Nam's future exports and competitiveness.
Carbon border taxes are likely to become a feature of global trade, and attracting FDI will also depend increasingly of the availability of low carbon production systems.
Increased ambition in renewable energy will also attract more FDI to Viet Nam as international companies place more emphasis on green supply chains and green products to meet consumers' demands as well as their own global commitments to reduce their carbon footprint.
Regarding Denmark's key message to COP26, scheduled on November 1-12 in Glasgow, the UK, the diplomat said the COP26 will be the most important climate conference since the Paris agreement. It is essential that all nations fulfil the promise of the Paris Agreement and reduce their emissions to keep the global temperature rise to maximum 1.5 degrees from pre-industrial levels within reach.
However, the world is not on track to achieve this, thus it is urgent that all countries need to increase their ambitions for reducing emissions, said Christensen.
Christensen affirmed that "Denmark has committed to reducing its emissions with 70% by 2030. We believe that this is necessary, but certainly also possible."
"In Denmark, we have been working with green transition for many decades and have substantial experience and practical solutions to combat climate change. We are committed to working with emerging economies, including Viet Nam, to assist and support their own efforts to deal with climate change. This way Denmark is able to inspire action which delivers much more emissions reductions on a global scale," added the diplomat.
At the same time, the issue of climate finance is crucial. At COP15 in Copenhagen in 2009 the developed countries promised the developing countries US$100 billion a year in climate finance, which needs to be honored.
Denmark is ready to contribute with its fair share and it will provide at least US$ 500 million annually by 2023 in grant-based climate finance while strengthening Demark's efforts to mobilize public and private finance from other sources.
"With our combined grant-based finance and mobilized finance, Denmark is set to reach 1% of the overall collective US$ 100 billion target. This is a substantial share from Denmark – a country of just 5.7 million people - and we hope this will inspire and encourage others to follow. Keeping our promise from Copenhagen is crucial if we want to create trust and build the best foundation for a successful COP26," said Christensen./.
By Huong Giang