Da Nang among best places to go in Asia in 2024: Condé Nast Traveler
VGP - Condé Nast Traveler, a luxury and lifestyle travel magazine, named the central city of Da Nang among 11 best places to go in Asia in 2024.
November 18, 2023 1:44 PM GMT+7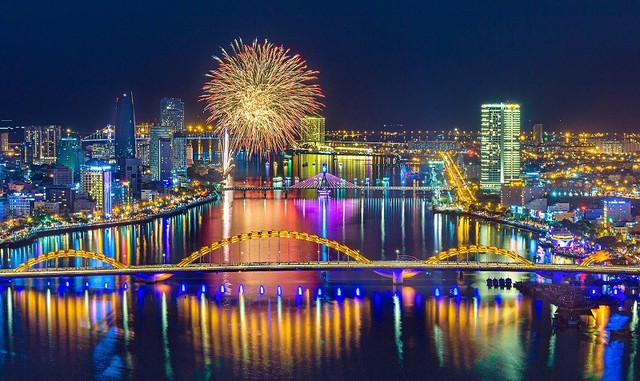 According to the magazine, Da Nang is a modern beach city located amid dozens of UNESCO-recognized sites in the country's heartland—including the ancient port city of Hoi An and the former imperial capital city of Hue.
The city is one of Asia's big post-COVID success stories, with 2023 international arrivals exceeding pre-pandemic figures, thanks in part to new flight routes that make the City of Bridges easier to get to than ever, Condé Nast Traveler noted.
Every June, more than 150 daily flights deliver tourists eager to witness the Da Nang International Fireworks Festival.
Son Tra Peninsula—located just 20 minutes from the city center—is another tourist draw, home to a 17-story, 220-foot statue of Lady Buddha, as well as endangered red-shanked douc langurs that live in the peninsula's nature reserve, told the travel magazine.
Central Vietnamese food specialties like Mi Quang, the official noodle soup of the region, and Banh Xeo turmeric crepes, should be another feature of any travel itinerary.
Statistics from the tourism industry, in the first nine months of 2023, domestic visitors to Da Nang served by accommodation facilities were estimated to reach more than 4.2 million, an increase of 1.7 times compared to the same period in 2022 and equal to 142 percent compared to the same period in 2019.
During January-September, the city welcomed more than 1.6 million international visitors, 5.8 times more than the same period in 2022./.