Coalition for Climate Entrepreneurship Hub makes debut
VGP - The Coalition for Climate Entrepreneurship (CCE Hub) made debut at a ceremony held in Ha Noi on September 27.
September 28, 2023 9:46 AM GMT+7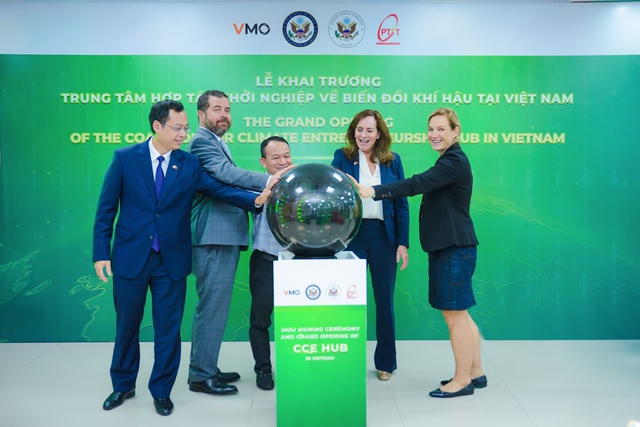 Also at the event, the U.S. Department of State, Viet Nam's Posts and Telecommunications Institute of Technology (PTIT), VMO Holdings Technology Joint Stock Company, signed a memorandum of understanding (MOU) on cooperation.
With the signing and launching ceremony of the CCE Hub, the relevant parties agreed to work together to promote startup activities in the field of climate change.
Dorothy McAuliffe, Special Representative for Global Partnerships in the U.S. Department of State said, the U.S. State Department, along with our hosting and implementing partners, are prepared to use this hub in the coming years to identify sustainability-focused entrepreneurs, convene them here in this space, and equip them with the tools and resources they need to scale climate solutions to market.

"We are confident this hub will build upon the momentum of the Comprehensive Strategic Partnership issued between Viet Nam and the U.S. during President Biden's recent visit as we work together to address the climate crisis", he noted.
CCE Hub, located at PTIT, is a dedicated innovation space designed to provide community space for founders and startups.
The hub's goal is to facilitate the creation of market-viable businesses that pioneer emerging sustainable solutions or innovate existing solutions, focusing on sustainability, which is clean energy, sustainable agriculture, climate finance, climate resilience and adaptation, and recovery projects.
On September 10, the U.S. and Viet Nam announced the U.S.–Viet Nam Comprehensive Strategic Partnership.
President Biden applauded Viet Nam's climate commitments under its Just Energy Transition Partnership (JETP), as well as Viet Nam's 2050 net zero greenhouse emissions target.
Party General Secretary Nguyen Phu Trong welcomed the U.S. contribution to mobilizing public and private financing for Viet Nam's JETP and cooperation with the international community to ensure its successful implementation while ensuring national energy sovereignty, security and affordability.
The U.S. committed to assisting Viet Nam with both finance and advanced climate technology to fulfill its international climate commitments.
Viet Nam welcomes projects funded by international financial institutions, including the World Bank, in the areas of climate change response, energy transition, green growth, and renewable energy infrastructure./.