Cai Mep port named among world's best container terminals
VGP - Cai Mep international terminal of Viet Nam was ranked 13th place by scoring 67.529 index value among the 370 most efficient container terminals/port clusters globally, according to the Container Port Performance Index 2021 report (CPPI 2021).
June 14, 2022 11:46 AM GMT+7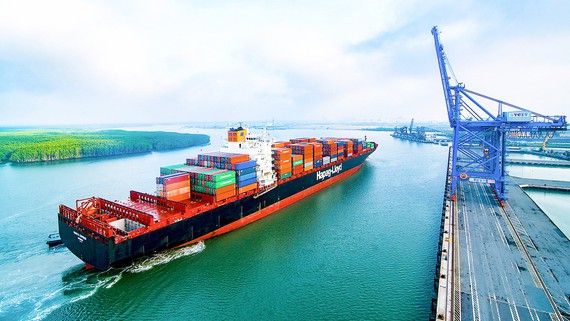 The CPPI 2021 was developed and published recently by World Bank and S&P Global Market Intelligence, aiming to assess the worldwide seaport efficiency, based on criteria related to the total time needed for completing the loading and unloading container of each voyage at a port for the entire year.
Specifically, Cai Mep port ranked 11th by the "statistical approach" index - increased by 38 places compared to 2020 and ranked 13th by the "administrative approach" index– increased 5 rankings against 2020.
Especially, the Viet Nam-based terminal was highly rated after KING ABDULLAH PORT, SALALAH, YANGSHAN, KHALIFA PORT, TANGER-MEDITERRANEAN, NINGBO, JEDDAH, GUANGZHOU, YOKOHAMA, ALGECIRAS, and CARTAGENA (COLOMBIA).
Cai Mep international terminal is located at Lan Thanh district in Ba Ria–Vung Tau province and 50km from Ho Chi Minh City with a total area of 48 hectares. The terminal has a wharf of 600 m long, capable of receiving large container ships with a tonnage of 160,000 DWT.
It is to become one of two special seaports in the country - an international gateway and an international trans-shipment port.
Cai Mep terminal is becoming the first choice of many famous shipping lines around the world.
Despite the serious effects of COVID-19 last year, the volume of goods passing through Ba Ria-Vung Tau's seaport maintained its growth momentum. In the first four months of 2022, the port cluster handled more than three million TEUs, equivalent to 106% of that in the same period last year.
By 2023, the port cluster's capacity is expected to increase by 53 percent compared to 2020./.