Ultra-large container ship docks at Cai Mep port
VGP – Cai Mep International Terminal (CMIT) has become one of 20 major ports worldwide capable of receiving ultra-large container ships.
October 26, 2020 4:20 PM GMT+7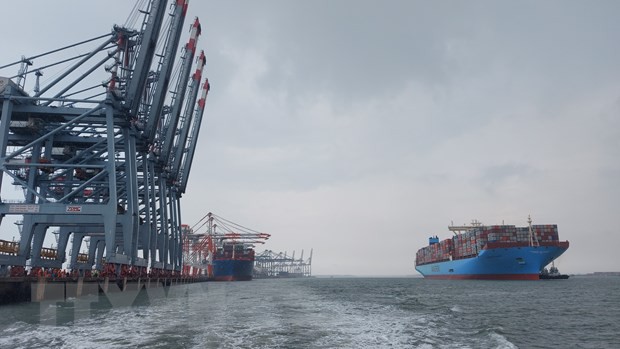 Margrethe Maersk docks at Cai Mep International Terminal in Phu My town, the southern province of Ba Ria-Vung Tau - Photo: VNA
On Sunday, ultra-large container ship Margrethe Maersk docked at the seaport, a joint venture between Viet Nam Maritime Corporation, Saigon Port, and APM Terminals, located in the southern province of Ba Ria-Vung Tau.
The 214,121-DWT vessel, operated by the 2M Alliance led by Maersk Line and Mediterranean Shipping Company (MSC), stretches nearly 400m in length and 59m in width.
The docking of Margrethe Maersk also has a significant meaning as Viet Nam is a member of new-generation free trade agreements, including the CPTPP and EVFTA.
Viet Nam's exports would be loaded on large mother container ships that go directly to major markets, such as Europe or the U.S., without having to be transited at transshipment hubs in Singapore or Malaysia. This in turn would help reduce logistics costs, travel time, and enhance competitiveness for Vietnamese goods./.
By Kim Anh