Australian Ambassador: Viet Nam takes increasingly active role in multilateral institutions
VGP - Viet Nam has taken an increasingly active role in regional and global multilateral institutions through its hosting of APEC in 2018, chairing of ASEAN in 2020, and term as a non-permanent member of the UN Security Council (UNSC) for 2020-2021.
June 17, 2022 9:36 AM GMT+7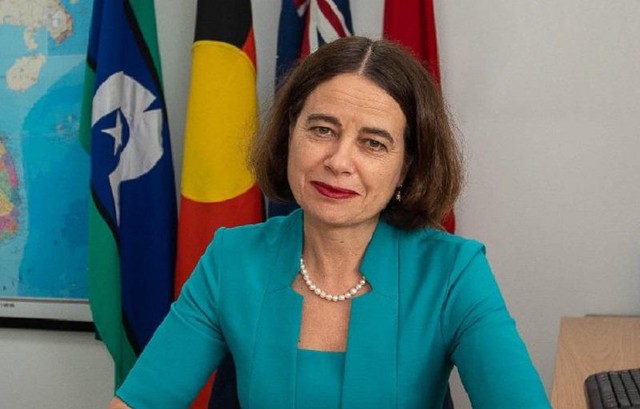 Australian Ambassador to Viet Nam Robyn Mudie made that above statement in her recent interview with the VGP.
Robyn Mudie said that, in all of these examples, Viet Nam is seeking to play a larger role in shaping rules and norms to uphold the global rules-based order. Australia is a strong supporter of Viet Nam's increasing engagement in these bodies, and cooperation within multilateral forums is becoming a cornerstone of the partnership.
Within the ASEAN-led regional architecture, Australia has developed a close working relationship with Viet Nam across various mechanisms, including the East Asia Summit, ASEAN Defense Ministers Meeting Plus, and ASEAN Regional Forum.
Like Viet Nam, Australia considers these bodies as important forums for strategic dialogue, building habits of cooperation, and strengthening collective capacity to deal with regional challenges.
An excellent example of this cooperation was Australia and Viet Nam's co-chairing, together with the EU, of the ASEAN Regional Forum's working group on maritime security from 2018-2021, where the two nations developed and implemented an ambitious multi-year program of activities to help promote a stable and rules-based maritime order.
Robyn Mudie expressed her delight to see Viet Nam take on a very prominent and active role during its recent term on the UNSC. The Southeast Asian nation played a critical bridging role between ASEAN and the UN in addressing important international and regional issues.
"I was also honored to attend the UN High-Level International Conference on Women, Peace and Security (WPS), hosted by Viet Nam in December 2020. This conference advanced the important global WPS agenda and was widely recognized and praised by the international community. It further demonstrated Viet Nam's increasingly active multilateral foreign policy agenda", she noted.
Notable achievements in Viet Nam-Australia ties despite COVID-19 outbreaks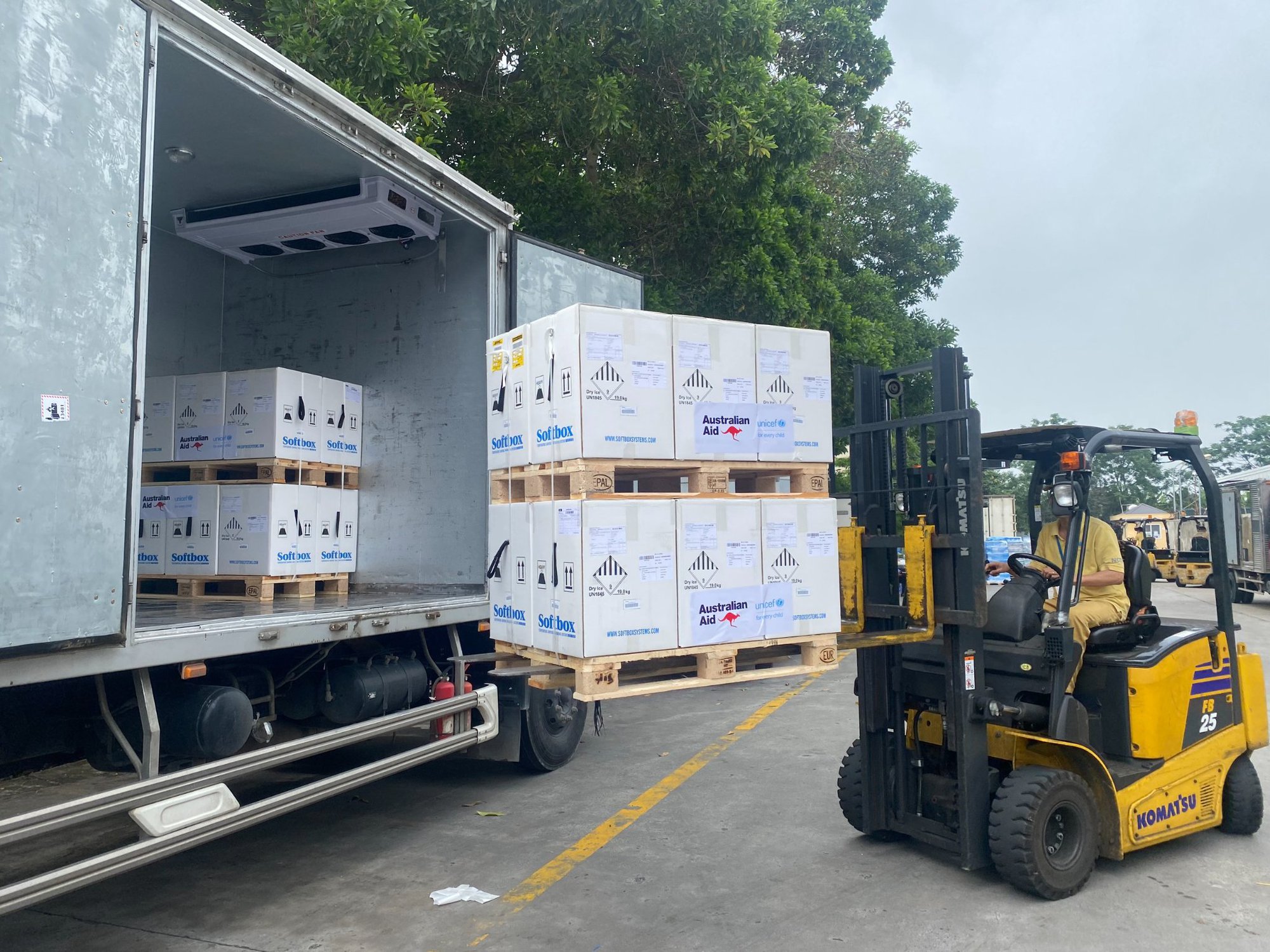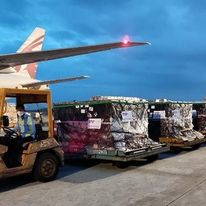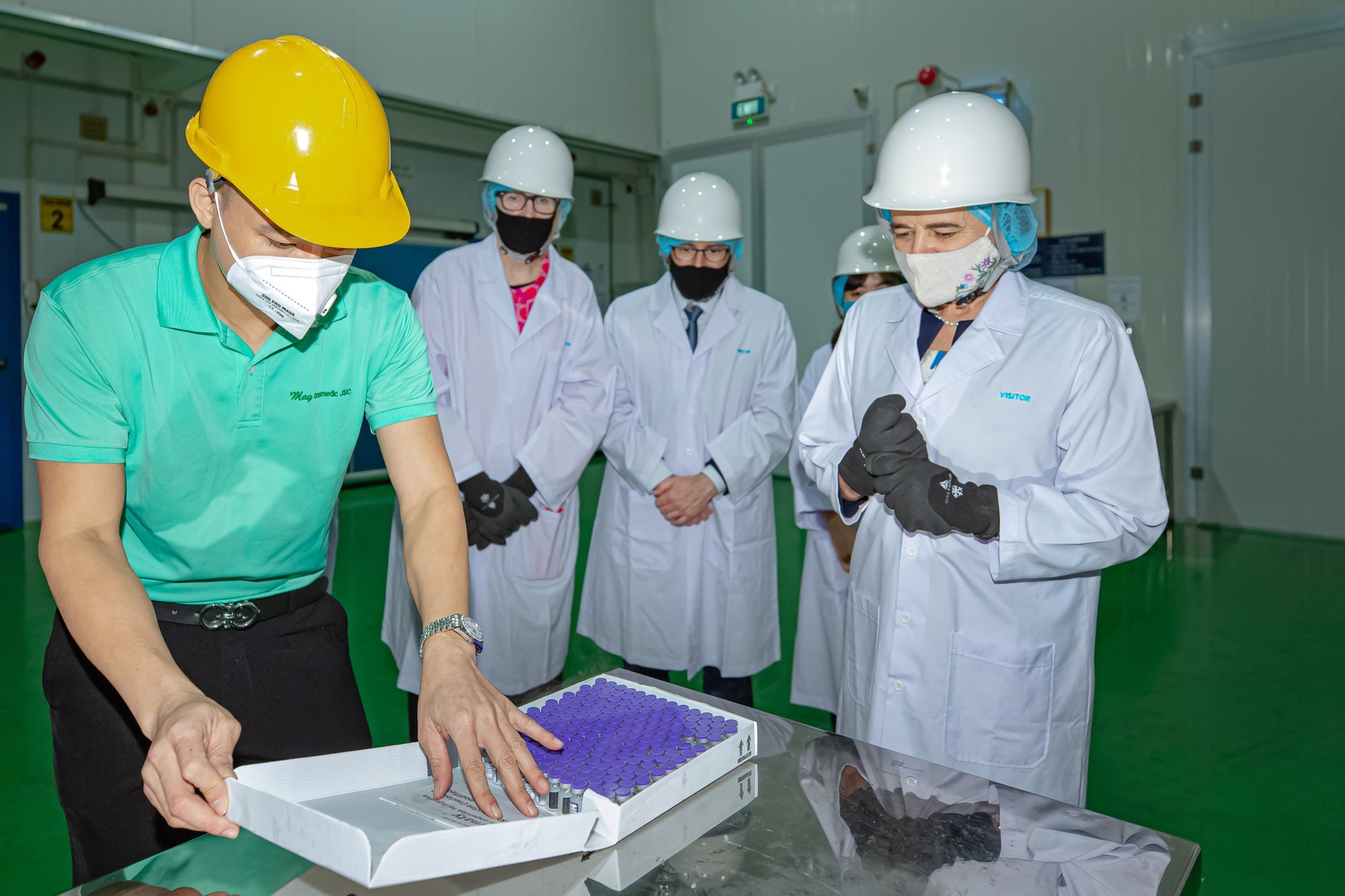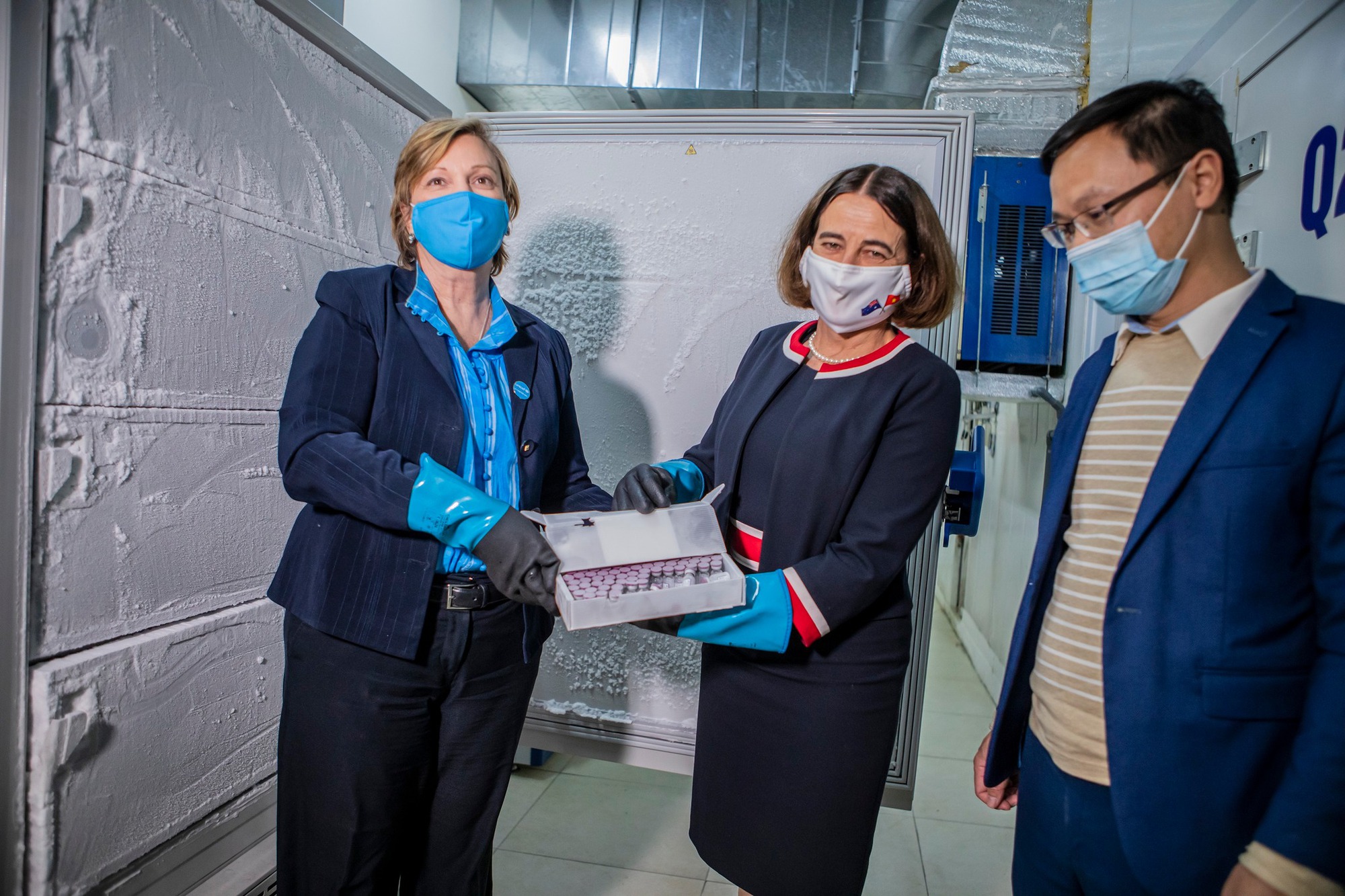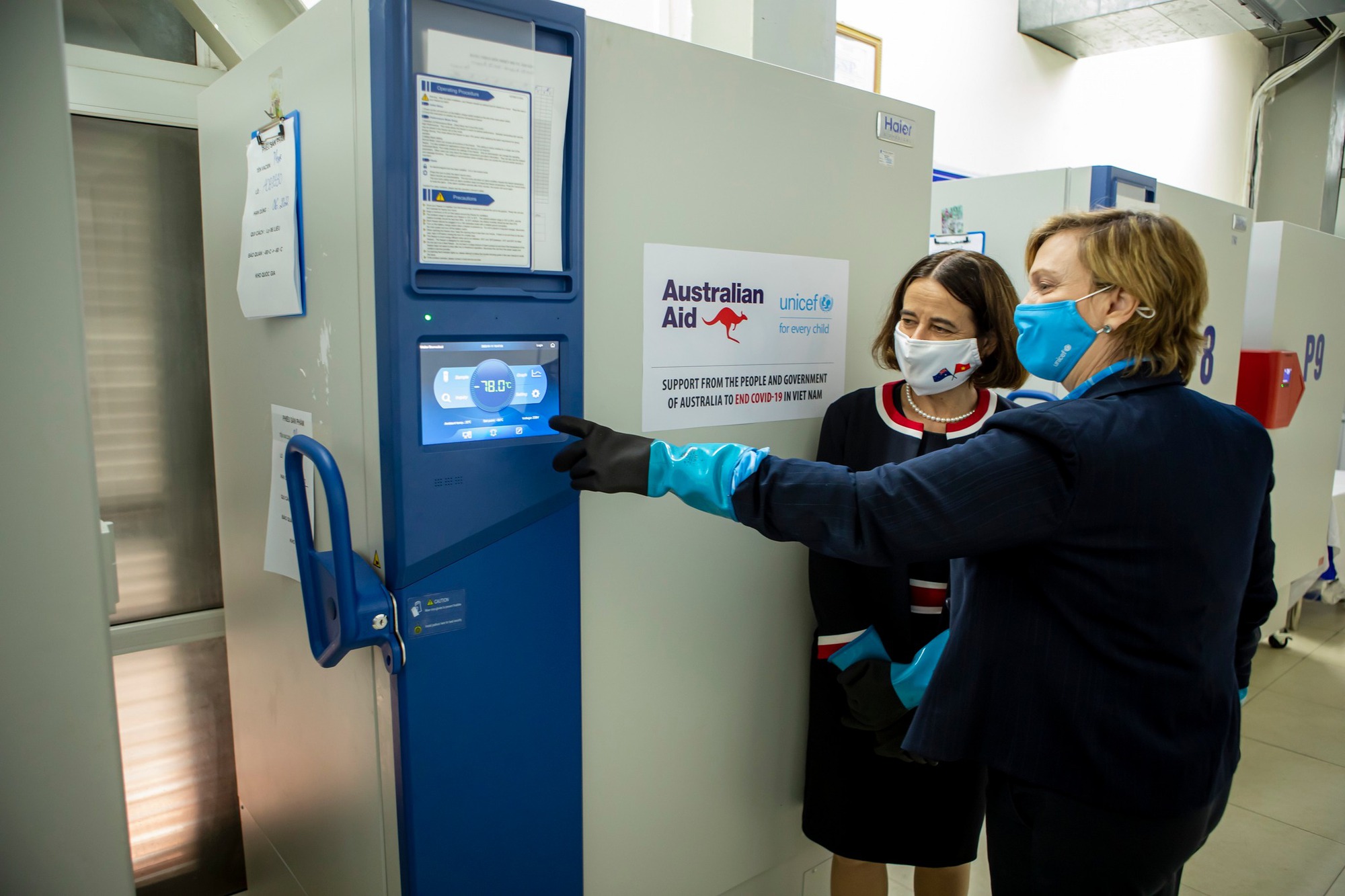 Australia shares more than 22.2 million COVID-19 vaccine doses with Viet Nam, including 14.4 million doses delivered to support Viet Nam's paediatric vaccination campaign - Photo: Australian Embassy
Despite the difficulties imposed by COVID-19, Viet Nam and Australia have continued to witness strong momentum across the breadth of the bilateral relationship.

The first is the partnership on COVID-19 and vaccines. Australia has now shared more than 22.2 million COVID-19 vaccine doses with Viet Nam, including 14.4 million doses delivered to support Viet Nam's paediatric vaccination campaign.
This is a significant contribution to Viet Nam's national vaccination program, she said, adding that Australia has been able to assist Viet Nam in its fight against COVID-19.
Access to safe and effective vaccines is critical for the health of communities and boosting economic recovery. Australia is proud to be a strong supporter of Viet Nam's vaccine rollout and will continue to work closely with Viet Nam and other regional partners in shared recovery from the pandemic.
The second area is the growing momentum of the two nations' trade and economic relationship. In December 2021, the Viet Nam Australia Enhanced Economic Engagement Strategy (EEES) was released to help reach the goals set by the two governments of becoming top ten trading partners and doubling two-way investment.
The EEES outlines a series of mutually beneficial initiatives to deepen trade and investment links in key sectors, including agriculture, education, energy, services and the digital economy, and will unlock significant opportunities for businesses in both countries. This is a significant development in economic and trade relations between the two countries and one which will help propel the partnership to the next level.
The final achievement is the defense and security partnership. Defense is a key pillar in the Australia-Viet Nam Strategic Partnership. Australia has been extremely pleased to support Viet Nam's growing contributions to UN peacekeeping missions in Africa.
Viet Nam's commitment to peacekeeping underlines Viet Nam and Australia's shared vision of a peaceful, inclusive, and resilient region that actively supports global security. Viet Nam has now deployed four rotations of a Level Two Field Hospital in support of the United Nations Mission in South Sudan (UNMISS).
Australia has provided strategic airlift support to all four Field Hospital Rotations. Australia also provides in-country English language training to peacekeeping personnel prior to deployment, and our ADF Peace Operations Training Centre works closely with Viet Nam's Department of Peacekeeping Operations to share lessons and experience.
The Ambassador is confident that the bilateral defense cooperation will continue to grow strongly in the future in support of shared interests.
Australia views Viet Nam as key partner on regional security issues
The outlook for the bilateral relationship and cooperation between the two countries is extremely positive as both sides look forward to celebrating the 50th founding anniversary of diplomatic relations.
"One of the things that has been most striking about my term as Australia's Ambassador to Viet Nam is how the ties between our two countries have continued to strengthen, despite the challenges and complications imposed by COVID-19", highlighted Robyn Mudie.
Next year will be no less ambitious as Australia continues to build on the solid foundation of the Strategic Partnership with Viet Nam across the breadth of engagement and work to elevate the relationship further.
Through the EEES and the joint commitment to free and open regional and global trade, Australia and Viet Nam are on a shared path towards inclusive and sustainable economic growth. Taking forward bilateral cooperation to implement the EEES will be a priority focus for both countries over coming years.
Underlying the rapid growth in Australia's relationship with Viet Nam over recent years has been the converging views on the regional strategic environment. Australia views Viet Nam as a key partner on regional security issues, and one with whom the nation can work closely to help shape an open, secure and resilient region.
The two nations' security and defense cooperation has grown rapidly over recent years, but there is still much more both sides can do together to address growing regional challenges, including on climate change, and cyber and maritime security.
Australia will continue to exchange views and ideas to enhance strategic, defense and security cooperation as well as deepen cooperation in ASEAN-led mechanisms and other forums to promote outcomes which enhance the security, stability and prosperity of the Indo-Pacific.
Remarkable memories in Viet Nam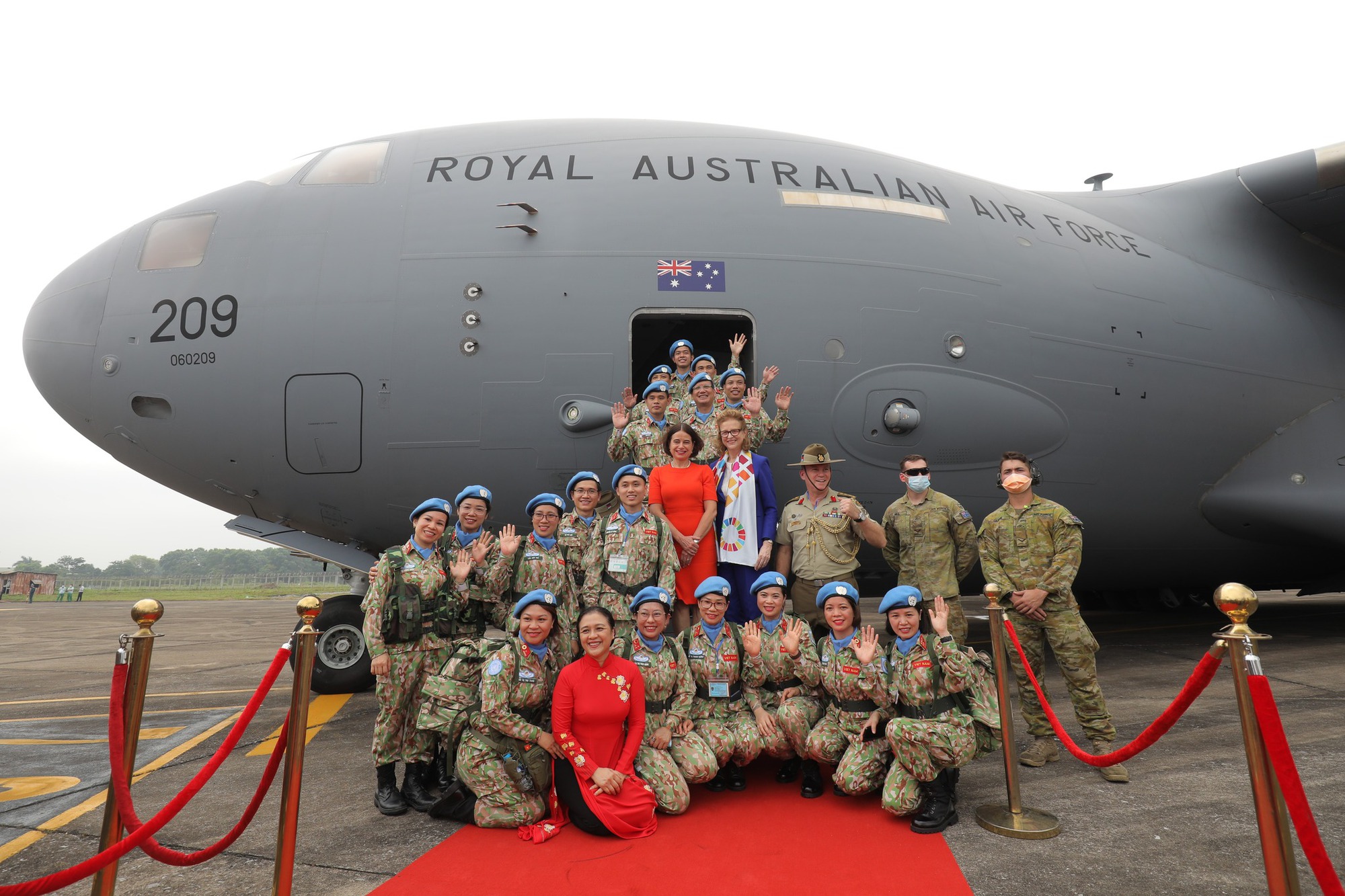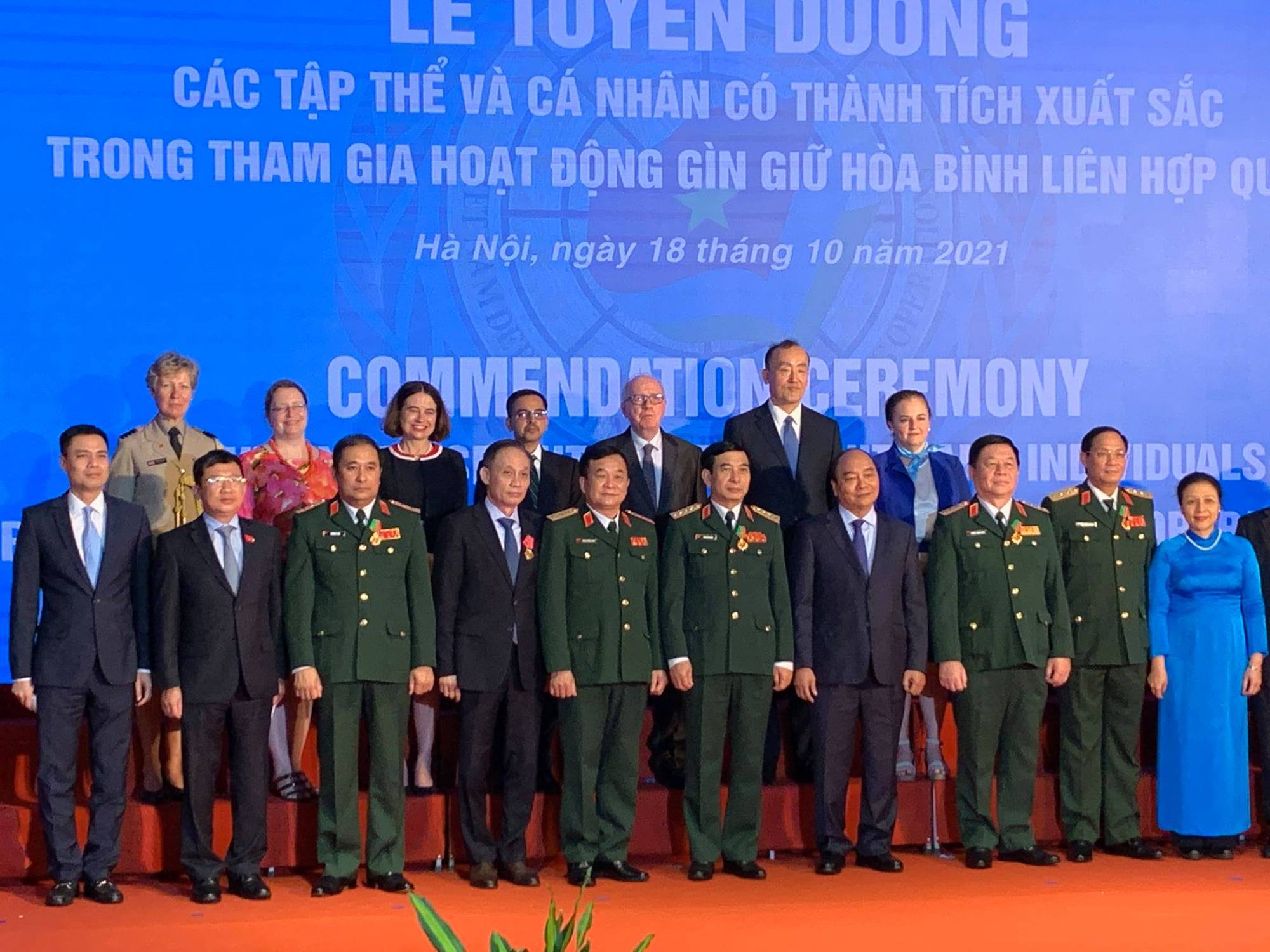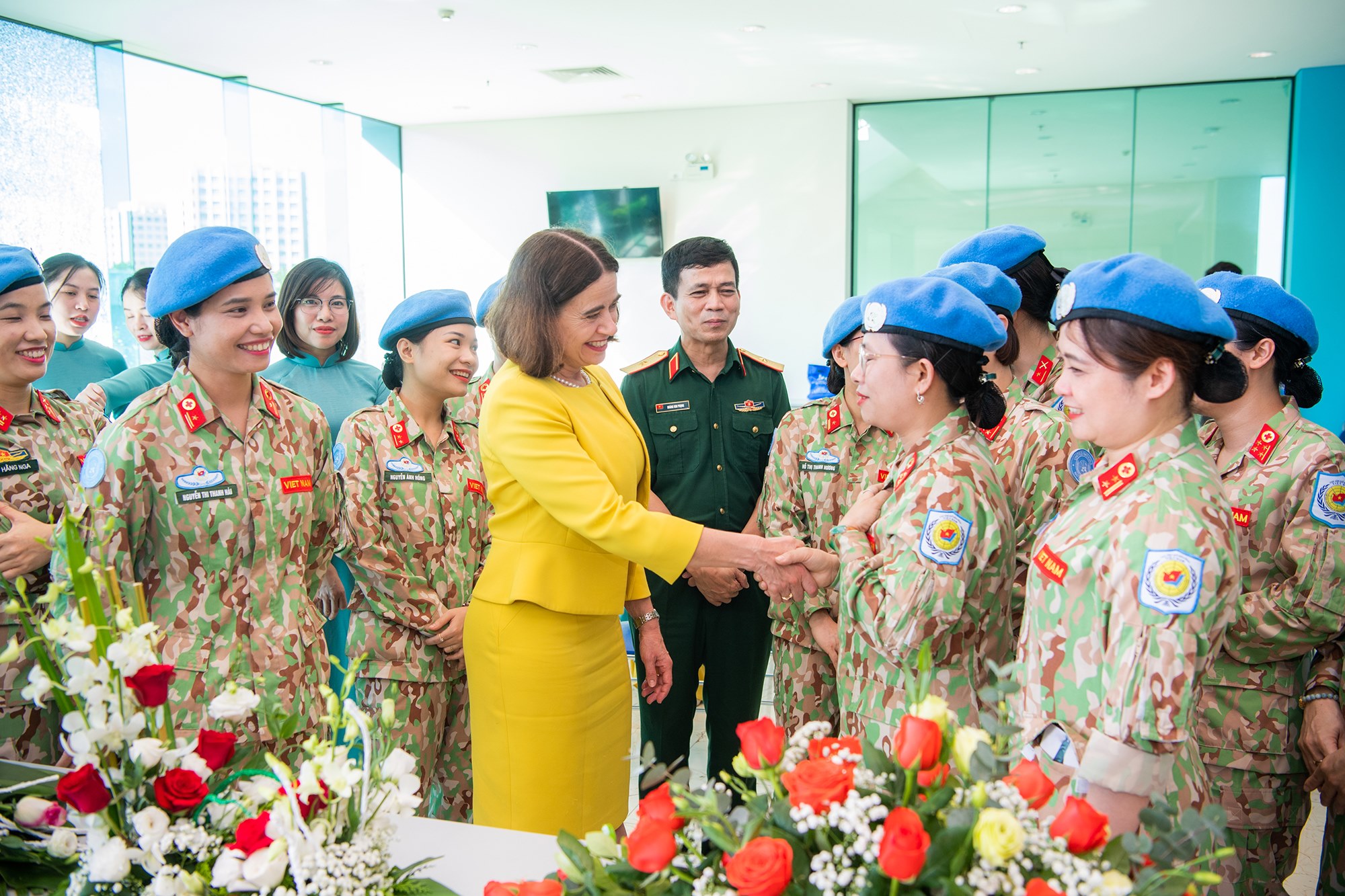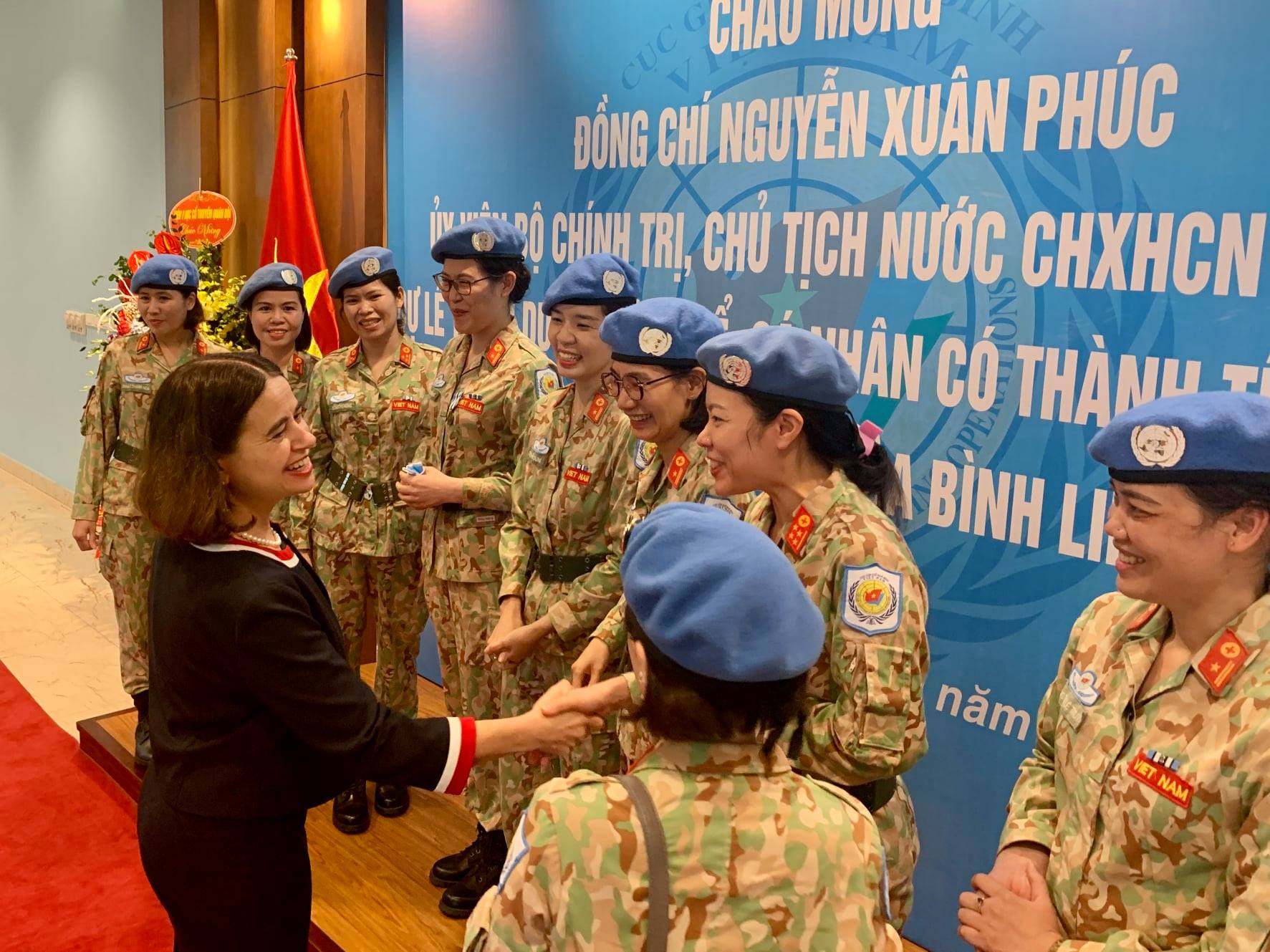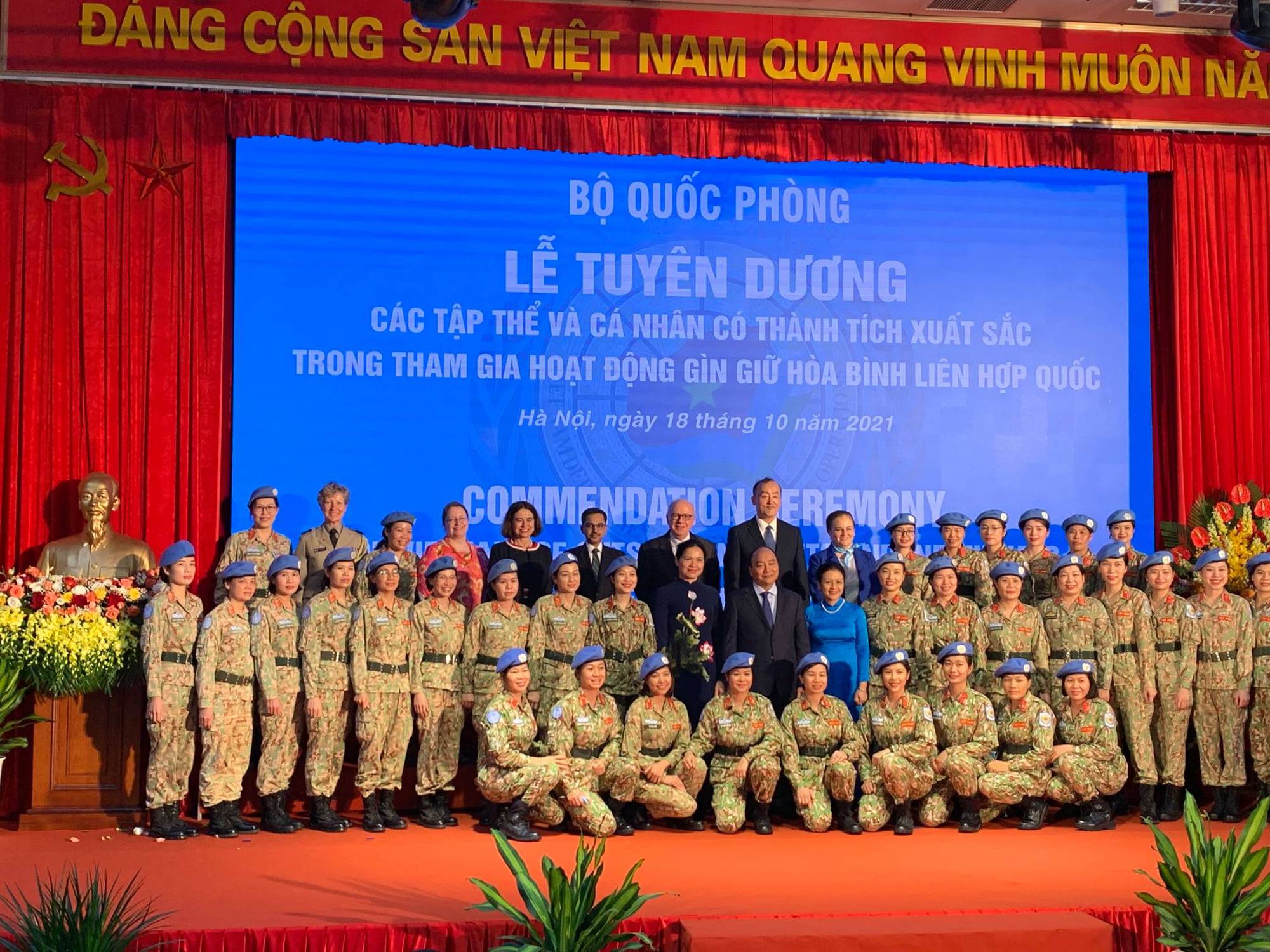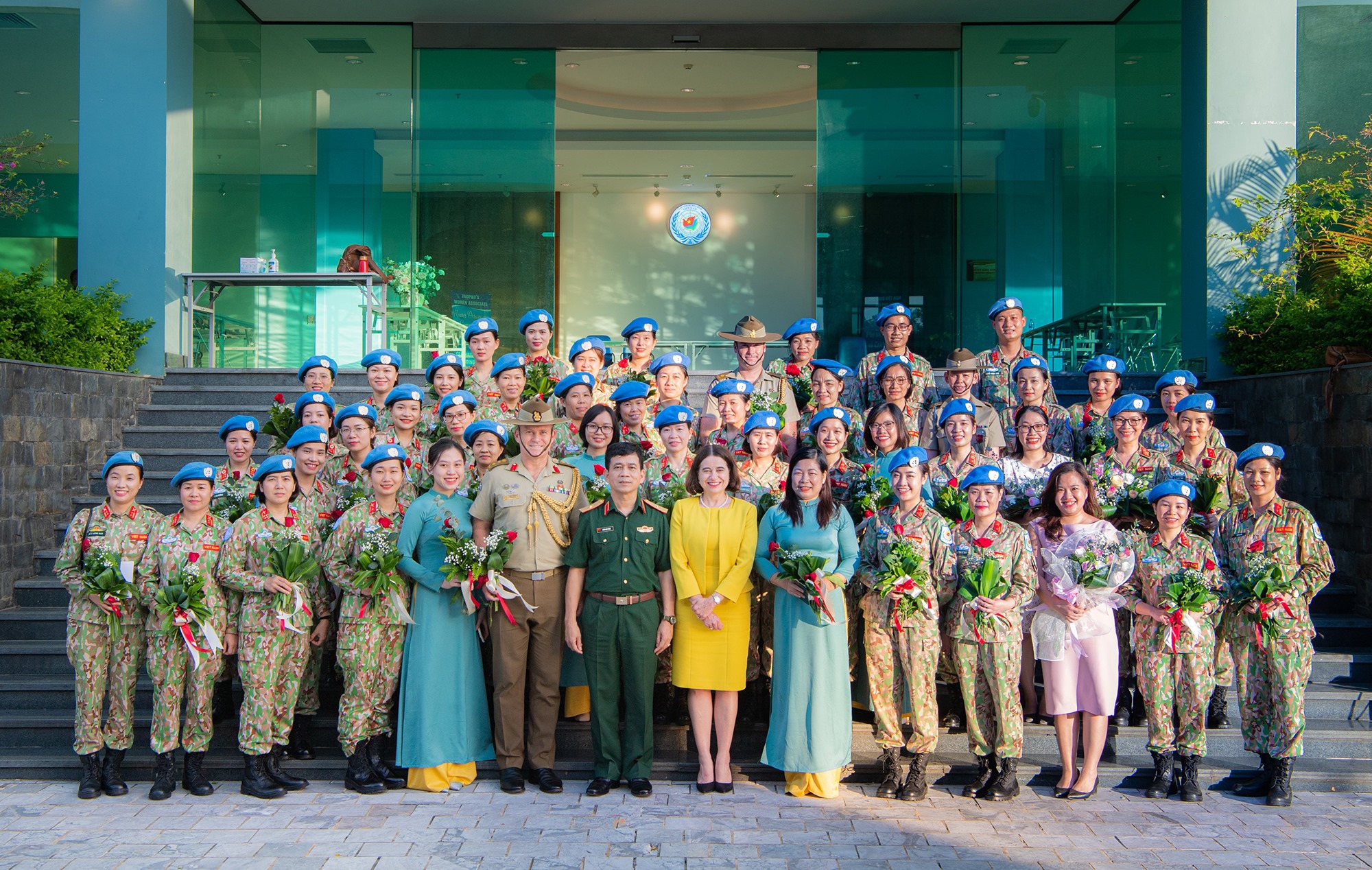 Australian Ambassador to Viet Nam Robyn Mudie with Viet Nam's female peacekeepers who have already deployed or are preparing to deploy on United Nations peacekeeping missions - Photo: Australian Embassy
"I have a wealth of remarkable memories from my term here as Ambassador, and ones which will stay with me for the rest of my life. One of the things that stands out most for me during my term as Ambassador was the extraordinary response by the Vietnamese people to the immense challenges of COVID-19", said the Australian Ambassador.
The strength of will and unity of purpose demonstrated by Viet Nam in seeking to prevent the spread of the virus and protect the most vulnerable was truly inspirational. It was clear that the many sacrifices made by ordinary people to contain COVID-19 was a direct result of the extraordinary patriotism and love for one's country that defines the Vietnamese people's spirit.
"Another memory which stands out for me was farewelling Vietnamese peacekeepers as they departed on rotation to Viet Nam's United Level 2 Field Hospital in the United Nations Mission in South Sudan (UNMISS) onboard a Royal Australian Air Force C-17 aircraft", acclaimed Robyn Mudie.
Viet Nam's commitment to peacekeeping underlines Viet Nam and Australia's shared vision of a peaceful, inclusive and resilient region that actively supports global security.
The Ambassador said that she was particularly honored to meet Viet Nam's female peacekeepers. These women are truly inspirational, and a testament to Viet Nam's commitment to advancing the global women, peace and security agenda, which is a priority for both nations.
Viet Nam continues to exceed UNs' expectations for female participation in peacekeeping missions and is a role model for many other nations. The presence of Vietnamese female peacekeepers in these missions brings greater safety and security for women and girls.
As a strong supporter of gender equality, women's empowerment and women in leadership, Australia is proud to be supporting the preparation of Viet Nam's women peacekeepers for deployment with the UN.
"As part of the first generation of Viet Nam's peacekeepers, these women are contributing to Viet Nam's history and also the global story of the vital role of women in peace and security. I felt extremely privileged to have the opportunity to meet these remarkable and path breaking women", stressed the Ambassador.