Australian Ambassador lauds Viet Nam's impressive performance in COVID-19 fight
VGP - Australian Ambassador to Viet Nam Robyn Mudie expressed her delight on the impressive performance of Viet Nam in the COVID-19 fight, firstly in combating COVID-19 and secondly in conducting a really impressive nationwide vaccination rollout in a very short period of time.
April 22, 2022 10:36 PM GMT+7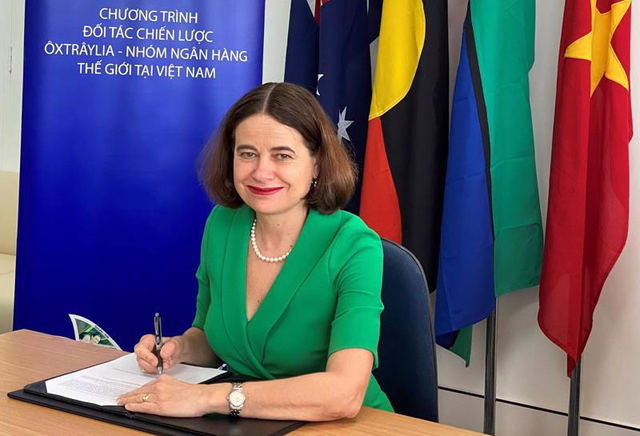 In her recent interview with VGP, Robyn Mudie noted that from the very beginning, the Vietnamese Government and people have shown great determination to combat COVID-19 and this is extended into the way they have approached the vaccination rollout.
It is very impressive that Viet Nam has achieved one of the highest vaccination rates in the world. Considering the size of the population this is an extraordinary effort.

Regarding the importance of vaccinating against COVID-19 for children aged 5-11, the diplomat said that COVID-19 is often milder in children but nevertheless it can cause severe illness and long-term effects.
In addition, children also play a role in transmission of the virus. This is why the Australian Technical Advisory Group on Immunization (ATAGI) strongly recommends that any individuals above 5 years of age are vaccinated.
The paediatric vaccination process will bolster Viet Nam's efforts to recover from COVID-19 and move to a more normal situation in the future.
Australia has been very proud to support Viet Nam in the paediatric roll out through the provision of 7.2 million doses. As many as 4.6 million doses have already been delivered to the country and the remaining of 2.6 million doses will land in Viet Nam by the end of April.
"It has been wonderful to witness the commencement of the next stage of Viet Nam's vaccine rollout with these doses and Australia will continue to work with Viet Nam to support this process", stated the diplomat.
Like Viet Nam, Australia has achieved a very high rate of adult vaccine coverage and the country is now progressing vaccination of children from 5-11 years of age. Both Pfizer and Moderna vaccines have been approved for use in Australia. So far, 50 percent of Australian children in this age have been vaccinated with one dose.
Robyn Mudie highlighted the importance of COVID-19 vaccinations for everyone, adding that Australia is willing to share with Viet Nam its experience rolling out COVID-19 vaccines, including for children
Australia is also prioritizing those with underlying diseases and health conditions. It's very important that both children aged from 5-11 and people with underlying conditions are vaccinated.
More support for Viet Nam to become stable, prosperous in post-COVID era
Along with the paediatric COVID-19 vaccine doses, Australia is extremely proud to support Viet Nam in its efforts to vaccinate its population by donating 7.8 million adult vaccine doses, which are now fully delivered to the country.
Australia is also working in partnership with UNICEF to bolster the vaccine rollout, and has supported improvements to cold chain storage facilities, the provision of communications products and training for healthcare workers.
Through its comprehensive package of assistance, Australia has provided more than 1900 fridges as well as thousands of syringes and safety boxes.
Australia's support for Viet Nam complements its commitment to support Southeast Asia through the Quad Vaccine Partnership and its contribution to the COVAX Advance Market Commitment.
"We are aiming to support Viet Nam to recover to become stable and prosperous in the post-COVID era. As a close partner and friend, Australia stands with Viet Nam as it continues to recover from COVID-19", she underscored.