The Diplomat: Ample opportunities to level up Australia-Viet Nam relations
VGP - There are currently immense opportunities to advance Australia-Viet Nam relations, with trade and investment at the top of the list, according to an article released by The Diplomat.
July 22, 2022 10:18 AM GMT+7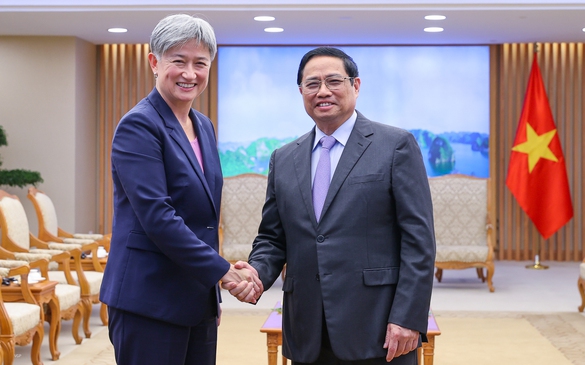 With Penny Wong's maiden trip to Viet Nam as the new Australian Foreign Minister, Viet Nam stood out as one of Australia's leading priorities in Southeast Asia, highlighted the article.
Economic cooperation has played a vital role in pushing forward the bilateral relationship over the years. Viet Nam is now Australia's 12th largest trading partner, while Australia ranks 10th among the Southeast Asian nation's top trading partners.
Despite the COVID-19 pandemic, bilateral trade grew by nearly 50 percent in 2021, the highest volume recorded to date.
In the first quarter of 2022, the two countries kept their upward economic growth on track, with trade increasing by a further 32.4 percent over the same period in 2021. As of the end of last year, Australian investors had 550 projects in Viet Nam, with a net value of US$2 billion, it noted.
Both Australia and Viet Nam have made pragmatic moves to enhance ties. In March, the two countries signed a Memorandum of Understanding (MOU) to support Vietnamese laborers taking part in the Australian Agriculture Visa Program.
The MOU has paved the way for around 1,000 Vietnamese employees to work in the agricultural sector in Australia each year. Last month, a new Viet Nam-Australia Centre was launched in Ha Noi to "bolster Viet Nam's leadership training and research skills" by drawing on Australian expertise in several different fields, the article underscored.
Moreover, Viet Nam and Australia have widened economic cooperation and strengthened their regional engagement through several key multilateral frameworks, it said, adding that Vietnam and Australia can have more room for maneuver to collaborate in a range of sectors, including fair trade, supply-chain resilience, decarbonization, infrastructure, and anti-corruption.
Multilateralism continues to serve as the nucleus that drives the Australia-Viet Nam relationship, it said.
According to the article, Viet Nam can be a good fit for Australia's strategy of cementing its regional standing and enhancing its ties with Southeast Asia. Hence, Australia's future in Southeast Asia hinges on an elevation of Australia-Viet Nam ties.
*During her three-day official visit to Viet Nam (June 26-28, 2022), Penny Wong paid courtesy visits to President Nguyen Xuan Phuc and Prime Minister Pham Minh Chinh and held talks with FM Bui Thanh Son.
At the meetings, Wong affirmed that Australia highly valued Viet Nam's role and position in ASEAN, the region and the world and is committed to continue strengthening the strategic partnership with Viet Nam to make the bilateral relations more practical and effective towards a new height.
The minister commended Viet Nam's commitment to achieving net zero emissions by 2050 and said she will work closely with the Southeast Asian country in this area.
Australia will continue giving priority to cooperation with the Mekong sub-region and agreed on the need to maintain peace, stability, security, safety and freedom of navigation and overflight in the East Sea as well as to respect international law, including the 1982 United Nations Convention on the Law of the Sea (UNCLOS), she said.