ASEAN ready to be trusted mediator in security challenges
VGP – Prime Minister Pham Minh Chinh said ASEAN stands ready to be a trusted mediator, together with other East Asia Summit (EAS) countries to seek effective, sustainable and long-term solutions to current security challenges.
November 13, 2022 1:14 PM GMT+7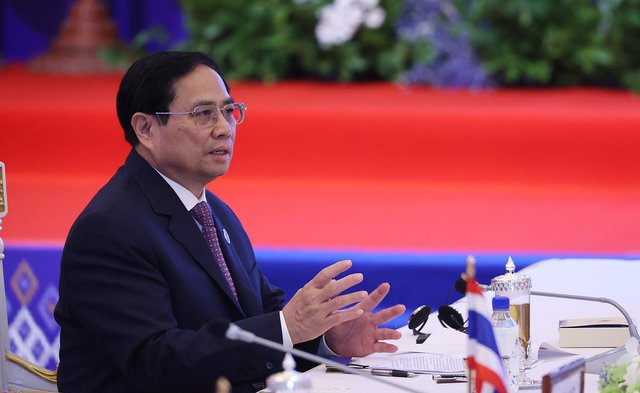 Pham made the above statement at the 17th EAS in Cambodia on November 13. First initiated in 2005, EAS countries comprise 10 ASEAN Member States and the bloc's 18 partners namely Australia, China, India, Japan, New Zealand, and the Republic of Korea, the U.S., and Russia.

The above process is carried out on the basis of equality and mutual respect, understanding, trust, dialogue and cooperation, Pham added.
In order to shape and consolidate the international system and multilateral architecture in an effective, transparent, inclusive and law-based manner for long-term and sustainable peace, ASEAN will continue working with its partners in upholding multilateralism and compliance of international law under the spirit of transparency, constructiveness, respect for ASEAN centrality and full consultation with ASEAN, Pham said.
On regional and international issues, Prime Minister Pham reiterated ASEAN's principled position on the East Sea, and called on countries to worth together in building the East Sea into the sea of peace, stability, cooperation and sustainable development and peacefully settling differences.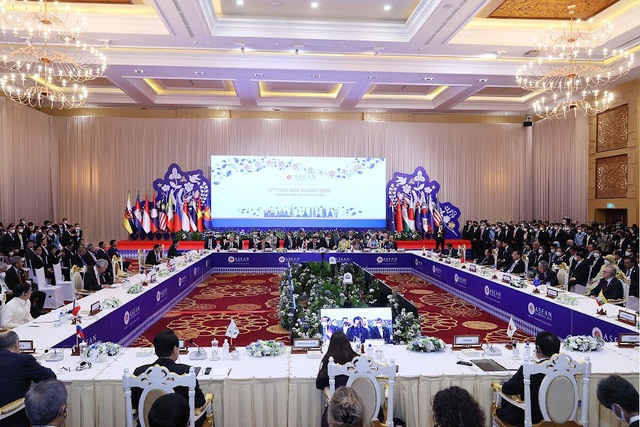 Pham also called on the international community and EAS countries to advocate the efforts aimed at early conclusion of a Code of Conduct that is effective, efficient, fair and satisfactory for all relevant parties, and in accordance with international law and the 1982 United Nations Convention on the Law of the Sea.
He urged EAS partners to support ASEAN implementing the Five-Point Consensus and assist Myanmar in finding solutions to stabilize the situation there.
Pham suggested the EAS countries should give priority to accelerating economic recovery, strengthen regional integration, quickly reopen markets, thus contributing to beefing up multilateralism, fair and free trade, and bring practical benefits to people in the region.
He asked the EAS partners to assist ASEAN in promoting digital transformation, green transition, circular economy development, ensuring energy security, food security, cyber security, and effectively translate commitments to green and sustainable development into reality.
The Vietnamese Government chief also asked the EAS partners to back ASEAN's efforts in advancing sub-regional development, including the Mekong sub-region, thereby contributing to narrowing development gap and promoting equitable, sustainable, inclusive and comprehensive development in ASEAN.
The EAS process focuses on six priority areas of cooperation, namely environment and energy, education, finance, global health issues and pandemic diseases, natural disaster management, and ASEAN Connectivity. Plans of Actions have been developed to promote cooperation on these priority areas.
The EAS also discusss cooperation in other areas and emerging issues such as food security, trade and economics, maritime security and cooperation, and traditional and non-traditional security issues./.