American business giants regard Viet Nam as strategic market
VGP - American business giants consider Viet Nam as a strategic market, commit to launch long-term investment in the country, and strongly advocate the Vietnamese Government's goals in terms of digital transformation, green transition and infrastructure development.
March 23, 2023 12:08 PM GMT+7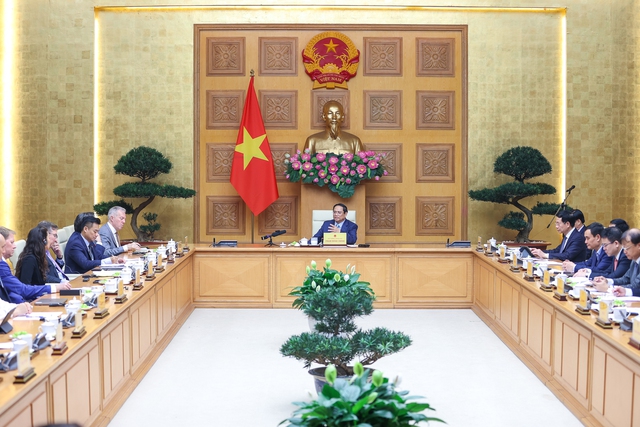 President & CEO of the U.S.-ASEAN Business Council (USABC) Ted Osius made the above statement during his meeting with Prime Minister Pham Minh Chinh in Ha Noi on Wednesday.
Attendants in the event included Minister-Chairman of the Government Office Tran Van Son, Minister of Information and Communications Nguyen Manh Hung, Minister of Transport Tran Van Thang, U.S. Ambassador to Viet Nam Marc Knapper, and a delegation of representatives of 52 businesses, the largest-ever U.S. business mission to Viet Nam.
Ted Osius congratulated Viet Nam on its impressive achievements in 2022 despite negative global impacts, expressing his belief in Viet Nam's economic prospects.
U.S. Ambassador to Viet Nam Marc Knapper affirmed the U.S. Government and private sector's commitments to back a strong, independent and prosperous Viet Nam, and bolster cooperation activities for the prosperity of both countries.
Both sides lauded the bilateral trade value in 2022 which reached a new peak of US$123 billion, up 11 percent against the previous year.
The U.S. is currently the second largest trade partner of Viet Nam while the Southeast Asian nation emerged as the eighth among the U.S.' biggest trade partners.
The U.S. has poured US$11.4 billion in 1,223 active projects in Viet Nam, ranking 11th among 142 nations and territories investing in the country.
Representatives from the U.S. businesses proposed new initiatives and opportunities in terms of investment in Viet Nam, particularly in such areas as innovation, tourism, automobile, aviation, digital economy, health, energy and banking.
Viet Nam vows to facilitate U.S. enterprises to expand operation
At the meeting, Prime Minister Pham suggested both sides strengthen win-win cooperation and promote collaboration in a substantive and effective manner.
Viet Nam commits to facilitating U.S. enterprises to expand operation in the country as well as creates favorable conditions for Vietnamese firms to take part in the U.S. businesses' value chain, he said.
Pham emphasized the need to enhance coordination between the two business and banking associations, adding that Vietnamese relevant agencies will continue amending regulations and policies subject to visa and labor licenses to support enterprises and investors.
In the upcoming time, the Government chief recommended the USABC continue to play its bridging role in connecting the U.S. Government and businesses with the Vietnamese Government and between the two sides' enterprises and people.
He called on the USABC to work closely with Viet Nam in policy making to get access and attract more investment from the U.S. multinational companies in launching big and high-tech projects.
He asked for boosting collaboration, procurement and technology transfer, especially in all spheres of vaccine production, medicine, medical equipment, digital, clean and smart agriculture and climate change adaption.
Viet Nam is willing to import machines, equipment and tools from the U.S. to improve trade balance, said Pham.
He called for formulation of bilateral cooperation mechanisms and acceleration of investment promotion activities to increase investment inflows between both sides./.