Leading U.S. businesses explore opportunities in Viet Nam
VGP - Minister Nguyen Chi Dung had a working session with a high-level US-ASEAN Business Council (USABC) business delegation on March 21 at the headquarters of the Ministry of Planning and Investment (MPI).
March 22, 2023 5:20 PM GMT+7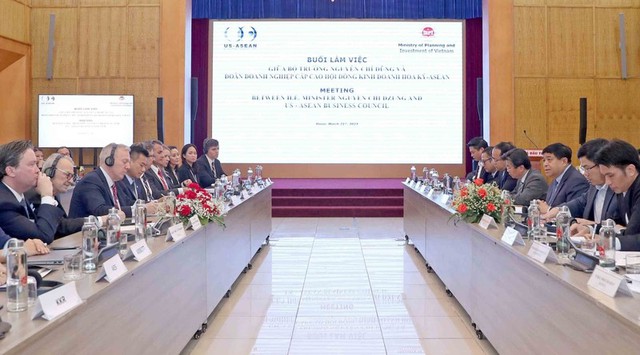 With over 50 leading U.S. corporations and enterprises, this is the largest business delegation ever to Viet Nam to discuss investment and business opportunities.
The delegation came on the occasion of the 30th anniversary of the establishment of bilateral relations and the 10th anniversary of the comprehensive partnership between Viet Nam and the U.S.
Minister Nguyen Chi Dung briefed on Viet Nam's economic situation at the meeting. He assessed the relationship with the U.S. over 30 years and Viet Nam's development priorities.
According to the Minister, the relationship between Viet Nam and the U.S. has developed comprehensively and achieved many good results. Economic, trade and investment cooperation continues to be a key pillar and driving force of the bilateral ties.
The U.S. is currently the second-largest trading partner and one of Viet Nam's most important export markets.
The U.S. is also a crucial ODA donor and the 11th investment partner among Viet Nam's 142 countries and territories.
Viet Nam highly appreciates the practical business and investment activities of U.S. investors in the country and hopes to continue to gain trust for expanding investment, trade and cooperation activities in the coming time.
The minister expressed his wish that the U.S. would become the largest investor in Viet Nam to promote all opportunities for cooperation in the development of the two countries based on a relationship of equality, mutual respect and mutual benefit.
Based on the proposals exchanged and shared during the meeting, the Ministry of Planning and Investment will synthesize and research to advise and propose to the Government to continue to improve institutions and policies.
At the same time, the ministry is committed to building a transparent, friendly business investment environment and creating the most favorable conditions for foreign corporations and investors, including the United States and especially USABC members./.