AmCham Chairman: U.S. businesses optimistic about Viet Nam's prospects for strong economic growth
VGP - The U.S. business community is optimistic about Viet Nam's prospects for strong economic growth despite global headwinds.
September 17, 2022 4:16 PM GMT+7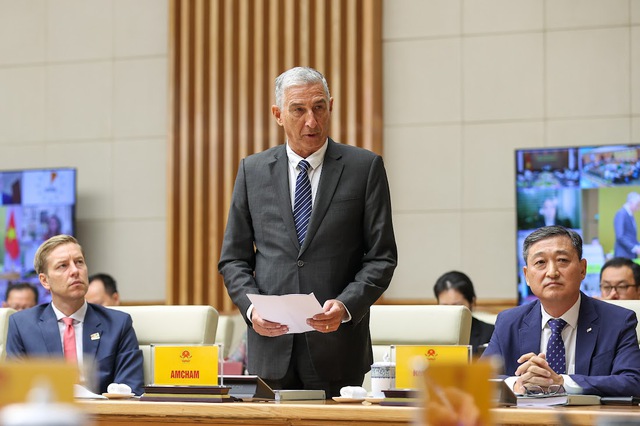 Chairman of the American Chamber of Commerce in Viet Nam (AmCham Viet Nam) John Rockhold made that above statement while attending a conference between Prime Minister Pham Minh Chinh and foreign direct investment (FDI) firms on September 17.
The AmCham Chairman congratulated the Prime Minister and the Government on the recent good news of Moody's recent ratings upgrade, which will help the country in attracting lower-cost foreign capital.
The ratings upgrade demonstrates that Viet Nam has built strong credibility by enabling a stable macroeconomic environment, high GDP growth, and low inflation, as well as fiscal prudence, he noted.
John Rockhold expressed his belief that Viet Nam has managed recent global challenges effectively, asserting that consistent vaccine rollout and pragmatic reopening positioned Viet Nam for a resilient recovery.
Timely adjustments to petroleum prices and pauses on new taxes and fees have helped keep inflation at reasonable levels, he added.
Fair, transparent, predictable, and streamlined regulatory environment is needed
According to the AmCham Chairman, the export-manufacturing sector now faces decreased demand from key markets.
In addition, Viet Nam's investment policies currently may not be sufficiently competitive to attract much high-tech FDI when compared to the US CHIPS and Science Act, the Europe Chip Act, or incentives offered by regional competitors like Japan, Taiwan (China), and Malaysia.
The most important factor for a favorable investment climate is a fair, transparent, predictable, and streamlined regulatory environment-not only to attract new investment, but also to maintain and grow the investment already here, recommended the AmCham Chairman.
He spoke highly of the Government's actions that extended, postponed, and exempted taxes to support businesses and citizens during the pandemic.
Viet Nam should adopt global standards for accounting, audits, transfer pricing and use the Advanced Pricing Agreements which has already been approved by the National Assembly, recommended John Rockhold.
Private sector participation will be crucial to support Viet Nam's energy security and energy transition, he said, suggesting the Government finalize and issue the Power Development Plan VIII (PDP8) together with clear mechanisms for renewable energy.
He proposed that the Government bring private sector power representatives and banking representatives into the decision-making process to increase and mobilize resources for green and sustainable power development.
AmCham appreciates the efforts by the Government to support Viet Nam's digital economy transition, stated John Rockhold.
For Viet Nam to realize the full potential of its digital future, the AmCham Chairman recommended the Government take a holistic approach and global view in developing a digital regulatory framework.
The free flow of data across borders and ensuring Vietnamese users can access industry-leading services and global-standard data protection mechanisms are vital to ensuring a successful future here.
The Government should ensure that regulations on cyber security and personal data protection conform to international laws and industry best practices.
John Rockhold recommended accelerating revisions of the Pharma Law, Decree 54 and Registration circular, removal of warehousing and transportation restrictions, and removal of country-specific requirements to align Viet Nam's processes with global standards.
Reducing administrative procedures is important, he underscored, suggesting the Government eliminate the need for legalization of documents used to obtain work permits.
He also encouraged educational reforms to support high-value manufacturing, policies to promote localization of supply chains, further investment in transportation and logistics infrastructure, and incentives for high-tech investment and enhanced R&D capabilities.
"The AmCham looks forward to working together on an enabling environment that attracts additional investment and drives innovation and sustainable growth here", emphasized the AmCham Chairman.