Viet Nam builds strong credibility by enabling stable macroeconomic environment: AmCham representative
VGP - Viet Nam has built strong credibility by enabling a stable macroeconomic environment, high GDP growth, and low inflation, as well as fiscal prudence with one of the lowest Government debt-to-GDP ratios in the world.
September 15, 2022 10:33 AM GMT+7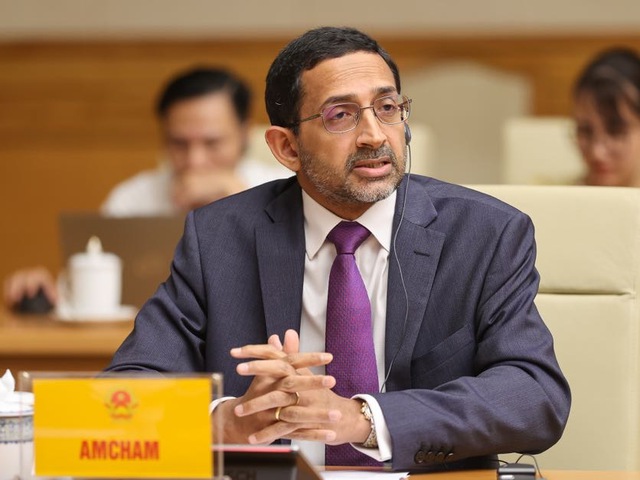 A.S. Ramachandran, American Chamber of Commerce (AmCham) Board of Governors and Citi Country Officer for Citibank in Viet Nam, made that above statement in his remarks delivered at a recent meeting on macro-economic stability with Prime Minister Pham Minh Chinh.
Ramachandran congratulated the Prime Minister and the Government on the recent good news of Moody's upgrade of the long-term issuer and senior unsecured ratings of the Vietnamese Government to Ba2.
This upgrade will help the country in attracting foreign capital, and the Government and businesses will be able to access lower-cost international credit, he emphasized.
Last week's upgrade demonstrates the international community's positive view of the Viet Nam government's policies to stabilize and recover the macro economy and cement the socio-political foundation, added the AmCham representative.
AmCham values the actions the Government has taken to manage global economic challenges and to promote a stable macroeconomic environment in Viet Nam, he said.
The Government has managed various global challenges effectively, including controlling the continuing pandemic, a sharp downturn in the global economy, and inflation in key inputs.
The timely adjustment to petroleum prices and pauses on new taxes and fees has helped tamp down inflationary concerns. Now is the time to make bold reforms to ensure continued sustainable growth.
AmCham concurs with the Government's focus on "4 stabilizations", "3 enhancements", and "2 speed up", reiterated Ramachandran, expressing his optimism about Viet Nam's prospects for continued economic growth in 2022 and beyond.
Recommendations for Viet Nam to reach faster economic growth
Regarding recommendations for Viet Nam to boost economic growth in the upcoming time, the AmCham representative suggested that the country's banking sector and state-owned enterprises need reforms to reduce risks.
Private sector participation will be crucial to support Viet Nam's energy security and energy transition, he added.
To increase confidence and attract investors, Viet Nam should finalize and issue Power Development Planning VIII together with new mechanisms for renewable energy, and process necessary project approvals consistent with other attractive markets.
He proposes that the Government bring private sector power representatives and banking representatives into the decision-making process to help remove difficulties and to support businesses to increase/mobilize resources for green and sustainable power development.
He reiterated the significance of undertaking bold financial sector reforms, particularly on raising Foreign Ownership Limits that will lead to "Emerging Market" and "Frontier Market" status for Viet Nam's capital market in the assessment of Morgan Stanley Capital International (MSCI) and FTSE Russell.
An investment grade sovereign rating and Emerging Market status from Frontier Market will attract more international capital into Viet Nam, creating a virtuous circle: a more positive view of the economy will attract more direct investment and trade, leading to faster economic growth.
"We welcome Viet Nam's new Insurance Law and look forward to the Ministry of Finance continuing to work with industry to develop regulations to increase awareness of the importance of insurance and insurance penetration rates", told the AmCham representative.
Finally, to ensure Viet Nam's manufacturing sector remains competitive and shifts to higher value production, he encourages the following:
(i) Educational reforms to support high-value manufacturing;
(ii) Policies to promote localization of supply chains, including enhanced transparency and traceability;
(iii) Investment in transportation and logistics infrastructure;
(iv) Actions to meet Viet Nam's long-term climate commitments and short-term renewable energy needs;
(v) Incentives for high-tech investment and enhanced R&D capabilities.
AmCham looks forward to partnering with the Government to develop an enabling environment that attracts additional investment and drives innovation and sustainable growth in Viet Nam by accelerating the Energy Transition, by unlocking the full potential of the digital economy, and by reforming capital markets, stated Ramachandran.