Agro-product exports seek for full recovery
VGP - Viet Nam earned some US$43.08 billion from exporting agro-forestry-aquatic products over the last 10 months of 2023, down 4.2 percent year-on-year, according to the Ministry of Agriculture and Rural Development (MARD).
November 01, 2023 8:29 PM GMT+7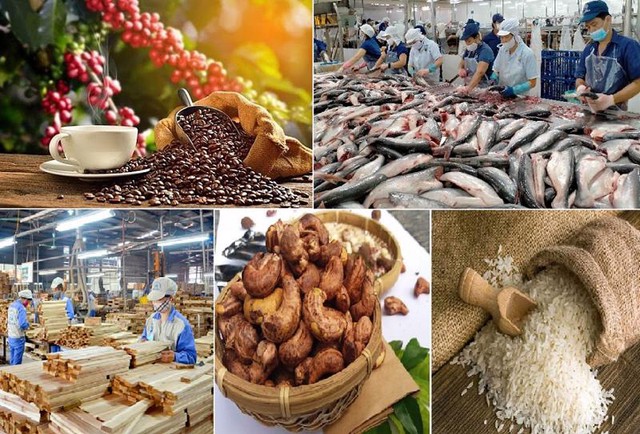 The sector posted a trade surplus of US$9.3 billion in the reviewed period.
In October alone, export revenue of agro-forestry-aquatic products was estimated at US$4.81 billion, up 11.1 percent from the corresponding time last year.
In January-October period, farm produce brought home US$21.94 billion, up 17 percent; animal products US$402 million, up 22 percent; aquatic products US$7.45 billion, down 20.5 percent; and forestry products US$11.65 billion, down 19.3 percent.
China, the U.S., and Japan remained the biggest importers of agro-forestry-aquatic products from Viet Nam during the first 10 months. Exports to China accounted for 22.8 percent of the total, rising 16.2 percent year on year; the U.S. making up 20.6 percent, down 20.8 percent; and Japan accounting for 7.5 percent, down 8.5 percent, the MARD reported.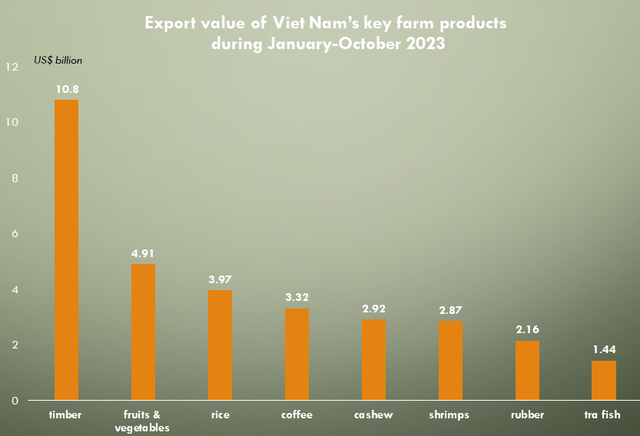 Agriculture exports holding the fort
In a report released by HSBC, the bank noted that Viet Nam has long been praised as a poster model in terms of its development, as it moves away from an agriculture-based economy to become a rising star in the global manufacturing supply chain.
The nation has benefitted significantly from the diverse mix in its agriculture export basket. In particular, it enjoys the benefits of being a traditional exporter as well as an emerging one.
As the world's third largest exporter of rice, Viet Nam's rice exports have risen on the back of soaring demand from regional peers and the recent rally in global rice prices.
The country has been proactive in reducing its dependence on rice exports as well as diversifying its destination markets.
Based on its recently released rice export strategy, Viet Nam aims to cut its rice exports to only 4 million tons per annum by 2030, half of this year's estimates, citing the need to "boost high-quality rice, ensure domestic food security, and adapt to climate change".
Meanwhile, Viet Nam's durian farmers have seen skyrocketing growth (up 1,400 percent year-on-year as of the third quarter of 2023) in its exports, due almost entirely to Chinese consumers' new preference for the king of fruits, and the implementation of the Regional Comprehensive Economic Partnerships (RCEP).
One-third of Viet Nam's employment is still concentrated in the agriculture sector, albeit this has declined from its peak of more than 40 percent a decade ago, as more of its young labor force has switched to the manufacturing and services sectors.
Unlike other sectors that saw double-digit declines, agriculture exports have weathered the storm well, rising almost 20 percent year-on-year on a 3-month moving average basis.
Given its abundant resources, Viet Nam enjoys a diverse agricultural base. Seafood makes up almost 40 percent of its agriculture export mix, followed by robusta coffee (14 percent), rice (12 percent), and fruits/vegetables (11 percent)./.